Lapping & Polishing Brass - Case Study
Test Requirements: Matt lap and mirror polish brass components
Component/Material: Oval & Rectangular Brass components
Stage 1 (Matt Lap) A cast iron plate on a Kemet 15 lapping machine with Kemox 0-800 Aluminium Oxide slurry and a run time of 5 minutes was used to give the components a flat matt finish prior to polishing.
Stage 2 (Mirror Polish) Finally an MRE cloth with COL-K and a run time of 20 minutes was used to mirror polish. This produced a blemish free mirror polish.
Before Lapping Brass
After Lapping Brass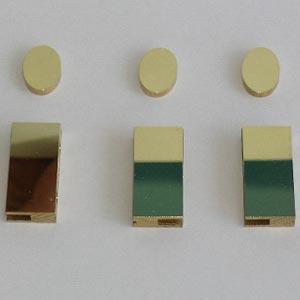 Test Requirements: To lap and polish components. Ra < 0.2µm
Component/Material: Cast Iron body & Brass top plate.
Parts were run using a non-slip film on a pressure weight , which held 1 part in a control ring at once. The smallest part was hand lapped on the Kemet Iron plate for 15 seconds. Ra achieved on cast iron body: 0.0851 µm Ra achieved on brass plate: 0.0335 µm
Process Breakdown
Stage
Plate/cloth type
Abrasive type/grade
Process time
Lap
Kemet Iron
Type K Standard Diamond slurry
10-20 minutes, depending on damage
Cast Iron body after lapping
Brass top plate after lapping
Brass component after lapping
Test Requirements: To improve flatness and surface finish on Brass plate
Component/Material: Brass plate, 69mm diameter
Machine Type: Kemet 24" diamond lapping/polishing machine
A total of 3 rings can be run on this machine. The parts were cleaned using Kemet C0-42 cleaning fluid. The Pressure weight used was a 15 inch machine pressure weight due to the size of the part (faced using an ant-slip membrane). A 24 inch machine could process a total of 9 parts per 5 minute cycle. Ra before - 0.1480 µm Ra after - 0.0332 µm Flatness before - Unreadable Flatness after - 1 light band (0.3 µm)
Process Breakdown
Stage
Plate/cloth type
Abrasive type/grade
Process time
Lapping
Kemet Copper SP2
Type O Standard Diamond slurry
5 minutes
After lapping Brass Plate