Ultrasonic Cleaning Fluids - Solutions For Ultrasonic Cleaners
Kemet offer the finest in biodegradable cleaning fluids. These are specialist formulated concentrated detergents available in neutral, alkaline and acid types. The detergents work in two ways: It reduces surface tension and intensifies ultrasonic cavitation & Dissolves and binds the dirt which has been loosened by the ultrasonics.
Disclaimer: Kemet recommend that any cleaning fluid should be tested on a sample of the component to be cleaned to ensure it does not damage the material and offer free trials to establish the optimum process.
With more than 400 high performance formulations providing a solution to most cleaning challenges.
Free consultations and trials to adapt formulations to specific requirements and optimise cleaning processes.
Environmentally aware process development to offer ecological solutions.
Physiochemical and physical wastewater treatment systems to comply with environmental legislation.
Compatible with Kemet range of ultrasonic cleaners.
For advice on which cleaning solution to use contact our cleaning experts. For examples of previous case studies of specific applications, click here.
Common contaminants that we deal with
Industry Applications
Application / Contamination
Type
pH
Product, compatibility and benefits
Package Size
Product Code
Function
Polishing compounds, soluble oil, light pollutions
Mild alkaline
8.1
GALVEX SU 737 - For Steel, Silver, Brass, Titanium, Zamak

Excellent emulsification and solubilisation of greasy substances. Leaves a temporary film that protects the surface from oxidation. Leaves a hydrophobic surface which facilitates the drying.
5 Litre
362988
Ultrasonic cleaning
25 Litre
362989
8.7
GALVEX 20.01 - Stainless steel, Titanium, Copper alloys Aluminium, Precious metals, Silver

Suitable for medical sector. Can be used as finishing product. Leaves a hydrophilic surface. Can be used in surface preparation prior to passivation.
10 Litre
363145
25 Litre
363146
10
GALVEX 20.02 - For all metals except carbides

No harmful components. High efficiency on brushed, satin and stippled parts (complex geometry). Increases wettability. Easily rinsed off, can beused as a finishing product
5 Litre
363473
25 Litre
363179
Strong alkaline
12.6
RODACLEAN 2018 - For Titanium, Ceramics, Steels, Stainless steels

No harmful components. Suitable for medical sector. Can be used in surface preparation prior to passivation.
5 Litre
363758
25 Litre
363035
12.65
VACUKLEEN 2018 - For Titanium, Ceramics, Steel/Stainless steel, Carbides and hard metals

Excellent preparation of surfaces prior to vacuum metallisation (P.V.D). Does not attack cobalt. Excellent wetting properties. Favourablysubstitutes solvents.
10 Litre
363395
25 Litre
363258
Free iron oxide removal
Passivation
2.4
DECOMET - For All metals and materials specific to the medical sector

Ideal for the passivation of stainless steel as an alternative to nitric acid. Safe use due to its citric acid base. Leaves no traces after drying.
10 Litre
363154
Soaking
25 Litre
363155
Neat oil, polishing compounds
Mild alkaline
9.9
DECOSPRAY TM - For all metals (except carbides), Synthetic materials

Non-foaming product. Requires an oil seperator
25 Litre
363162
Spray or ultrasonic cleaning (Can be used in vacuum system)
Strong alkaline
12.3
VACUKLEEN 440 - For Titanium, Steels, Stainless steels, Carbides, Precious metals, Plastic materials

Favourably substitutes solvents. Preparation of surfaces prior to P.V.D. Used in pre-degreasing. Oil separator is necessary. Does not attack cobalt.
10 Litre
363396
25 Litre
363259
12.3
DECOCLEAN 440 - For Steel, Stainless Steels, Ceramics

Can be used for pre-degreasing. Requires an oil seperator. Non-foaming product.
25 Litre
362945
Anticorrosion additive
Alkaline
11.1
KORROSTOP 5000 - For all metals

Biodegradable. Used as additive in final rinsing bath with demineralised water.
5 Litre
363150
Rinsing
25 Litre
363151
Deoxidation, brightening effect
Acidic
2
RODASTEL 30 - For all metals

Deoxidation, neutralization and activation preparation of surfaces prior to P.V.D.
25 Litre
362947
Ultrasonic cleaning
Setters cement, wax, glue
Solvent
N/A
ALLSTRIP - For all metals, including galvanised metal

Does not contain NEP. Excellent alternative to acetone. This product is not inflammable, (flash point > 65°C).
5 Litre
363167
Ultrasonic cleaning or Vacuum system
Other Cleaning Solutions
CO-42 Cleaning solution
A cleaning and degreasing fluid with many of the performance characteristics of 1.1.1 Trichloroethane, but without the ozone depleting properties.

Effectiveness
CO-42 cuts through contamination such as lapping and polishing residue, grease, oils and general surface contamination.

Evaporation
CO-42 is relatively quick drying, but not so fast as to leave dried staining on the surfaces of products. The controlled wetting and evaporation properties of CO-42 make it extremely versatile and efficient.

Versatility
Able to act as an extremely efficient cleaning agent for all metals, most plastics, ceramics, glass and similar materials.
| Size | Container | Code |
| --- | --- | --- |
| 450ml | Trigger Spray | 302103 |
| 5 Litres | Metal | 302102 |
| 25 Litres | Metal | 302101 |
| 200 Litres | Metal | 302105 |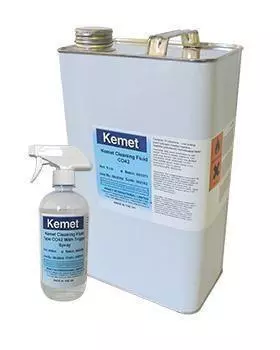 C70 Cleaning solution
Kemet C70 is a solvent cleaning and degreasing fluid with all of the characteristics needed to remove grease, oil and residues from parts. It is supplied in a pressurised container complete with detachable extended spray tube for reaching into the most difficult areas.
Highly efficient degreasing solvent
Very fast evaporation rate
No staining
Instantly removes lapping and polishing residue
Cost effective
Versatile and can be used on all metals, ceramics etc. (Always test small area first)
Contains no ozone depleting substances
| Size | Container | Code |
| --- | --- | --- |
| 500ml | Aerosol | 302114 |
| 500ml | Aerosols (Pk 12) | 302115 |
Cleaning Test Centre
At our dedicated cleaning test centre in Maidstone, we have the latest demonstration and test facilities to develop cleaning processes tailor made to the customer's requirements. We are able to undertake free of charge cleaning trials using a large variety of ultrasonic cleaners.
For further details on our ultrasonic cleaning trials or mould cleaning trials, please contact our Ultrasonic Cleaning Manager or call 01622 755287