Ultrasonic Cleaning Tank for Heavy Duty and Industrial Maintenance
Ultrasonic cleaning units with loading platform
The Corus Activa is optimised for industrial maintenance cleaning of complex parts. Corus Activa models are equipped with a truly robust integrated load platform. Sturdy platform makes loading and unloading of parts easy and safe. Platform also provides dunking movement during treatment cycle, which results in faster and more uniform cleaning with ultrasound.
Examples of maintenance cleaning applications
Filters, sieves, heat exchangers
Vehicle repair: turbochargers, cylinder heads, gearbox parts
Mechanical industry: bearings, blades, nozzles, valves, sensors
Process industry: valves, nozzles, seals, measuring devices, pump parts, pneumatic and hydraulic parts
Main benefits of the Corus Activa
Streamlined and cost-efficient maintenance process of complex parts
Short cleaning process
Superior cleaning results with ultrasonic cleaning
Reduced manual labour
Water-based and an energy-efficient process
Safe and easy operation
The load platform makes the part handling easy
An insulated lid keeps the heat in the tank
Pneumatic actuation (optional) of the lid makes the operation safe and comfortable
Easy and efficient operation
Parts are loaded with the platform in the upper position. Platform is lowered with two-hand safety controls. Lid is closed manually. Treatment is started by pressing the start button. After treatment the lid is opened manually, and the platform is raised with two-hand safety control for the unloading of parts.
Truly robust and safe load handling with double guides and cylinders on the load platform lifting system.
Safety and comfort of the operation is improved with the pneumatic actuation of the lid (on Corus Activa 480 only).
Insulated lid with gas springs – keeps heat in the tank with added safety for the operator.
Dunking movement of the platform contributes to fast and uniform washing.
Constant maximum performance and high level of cleanliness thanks to the state of the art FinnSonic Genius ultrasonic technology with automatic frequency and power regulation.
Ultrasonic transducers on two sides (front and back) – Full coverage of load area without dampening due to sludge accumulation over transducers.
Heating – multiplies detergent cleaning power.
Options
Pneumatic actuation of the lid (Corus Activa 240 and 360) - adds to the safety and comfort of the operation
Rim lip ventilation with extraction fan – reduces exposure to vapors and heat
Closed loop circulation with P1S or P2S bag filter – increases bath life and improves cleanliness result
Extended storage weir with circulation pump – enables skimming of oil from tank surface avoiding recontamination of parts when lifting out
Rinsing units with air bubble agitation also available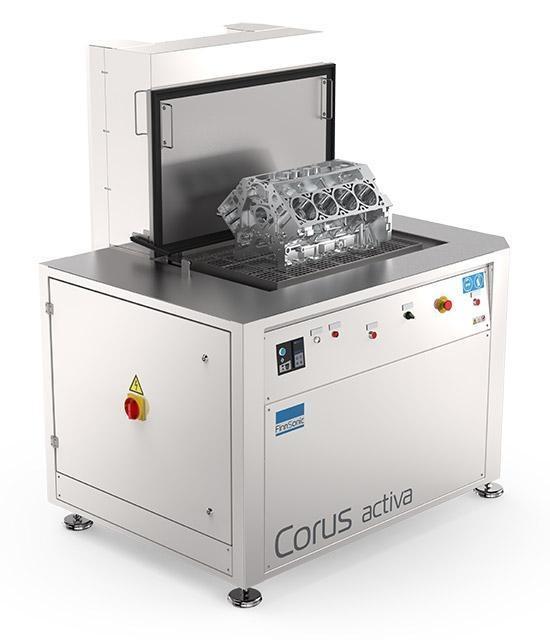 | | Corus Activa 240 | Corus Activa 360 | Corus Activa 480 |
| --- | --- | --- | --- |
| Load platform dimensions and usable height | 800 x 500 x h400 mm | 1100 x 600 x h400 mm | 1250 x 700 x h650 mm |
| Load capacity | 250 kg | 250 kg | 500 kg |
| Tank capacity | 309 l | 498 l | 898 l |
| Ultrasonic effect (nominal) | 2.4 kW | 3.6 kW | 4.8 kW |
| Heating effect | 12 kW | 15 kW | 30 kW |