Ultrasonic Polisher, Brushless Micromotors & Micromotor with Carbon Brushes
KemSonic - 3 Possibilities With 1 Control Unit
With ultrasonic, rotary and reciprocating actions it has everything the precision engineer needs in one space saving package. State-of-the-art ultrasonic technology, with an output of 45 watts, provides 30,000, 3-40 μm strokes per second. It automatically finds the optimum frequency, immediately the unit it is switched on, allowing the operator to quickly fine tune the output of the ceramic polishing stone and optimise the process. The rotary action is powered by a 300 watt brushless micromotor and offers three speed ranges, 1,000 - 15,000, 15,000 - 30,000 and 30,000 up to 50,000 rpm, while the reciprocating action provides 700-7,000 strokes of 0.2 mm per minute.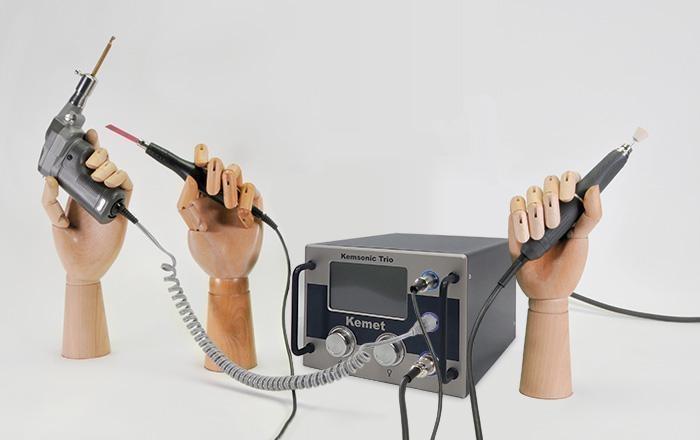 Ultrasonic polishing system
The KemSonic works with state-of-the-art ultrasonic technology. You notice this when you take hold of the handpiece. It is extremely handy, the cable is thin and flexible and the holders are neatly worked. When switched on the device seeks the optimum frequency, you can then adjust the output. The combination of ceramic-fibre file and ultrasonic-system allows you to remove the hard erosion skin rapidly and cleanly so that an optimum initial surface for the subsequent processing stages is obtained.
Technical data: Ultrasonic polishing system
Output up to max.
45 watts
Strokes:
30,000/sec.
Stroke length:
3 - 40 μm
Frequency:
automatic adjustment
Control:
continuously variable
Brushless micromotors with up to 300 watts
The KemSonic works with a brushless micromotor up to 300 watts. This allows you to powerfully grind and polish. The 300-watt output is available in three speed ranges:
1,000 to 15,000 rpm
15,000 up to 30,000 rpm
30,000 up to 50,000 rpm
Technical data: Brushless micromotor
Speed:
1,000 - 50,000 rpm
Output:
max. 300 watts
Sense of rotation:
reversible
Collets:
Ø 2.35 + 3.00 mm
Depending on the tool size and task, you select the appropriate speed range and always work under optimum conditions. Select the "brushless" output. The system automatically adjusts the starting speed to zero for your own safety. This ensures that you do not accidentally start with a far too high speed, thereby endangering yourself and others.
Adjusting the desired speed is simultaneously indicated on the display. The display always shows you the current speed. The integrated control electronics keep the speed constant. You can mount different heads on the micromotor.
Technical data: Control unit
Connection:
90 - 240 V, 50/60 Hz
Output:
300 watts max.
Dimensions:
170 x 260 x 140 mm
Outputs:
Ultrasonic. Brushless Motor. Motor with Brush. Foot Switch.
PowerHand motors with brush
With the PowerHand series you have a complete micromotor system available: angle heads, swingHandy with an interesting horizontal stroke, 2 powerful filing devices and a belt grinder.
Everything you need in one space saving control unit.
Technical data: PowerHand
Speed:
1,000 - 30,000 rpm
Output:
100 watts max.
Sense of rotation:
reversible
Collets:
Ø 2.35 + 3.00 mm
Kemsonic Trio - Product Code: 339213
1.1 Control unit with ultrasonic handpiece small, x1 holder flat 1.1 and 3.1 mm, round Ø 3.00 mm, foot switch, key set, handpiece rest, adapter M6 for Ultraform holders and tools
1.2 Brushless micromotor, with 300 watts speed from 1,000 to 50,000 rpm and straight rapid chuck handpiece, collet 3.00 mm
1.3 Filing and polishing device, Tool receptacle: 6.35 mm, stroke length: 0 - 2 mm continuously variable. Strokes/min.: no. of strokes: 700 - 7.000
2. Angle head 90 degree, with rapid chuck system, extra strong cog wheels and the robust bearing for a long lifetime, collet 3.00 mm.
(optional extra) - KemCabinet, perfect rack for handpieces and filing machines
Case Study using the Kemsonic
The mould (pictured below) was very tired and dull in appearance, the kemsonic ultrasonic station was first used to polish on the small apertures, that weren't accessible with any other handpiece. The reciprocating attachment was then used for stoning the damage out where required. The biggest problem was to polish the large aperture back to it's former finish – this had moulded 1000's of components and had lost it's shine.
The brushless motor and 90° head was used to polish, along with felt bobs, with Kemet 14µm compound to remove all easily visible scratches, the mould was then polished with Kemet 3µm compound (Type KD) to finish. Supra ME brushes were used to finalise the smaller apertures etc.
Before Polishing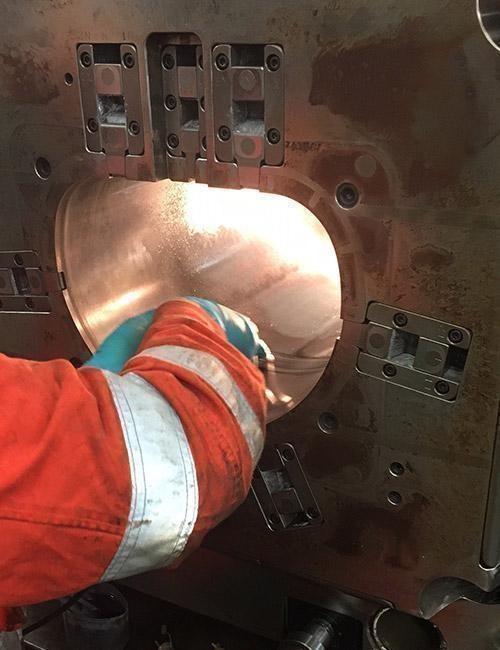 After Polishing