Top loading single stage spray washing machines
Cleaning parts prior to maintenance or between production phases is often necessary. This is important not only for technical reasons but also for operator comfort. In this regard, the Spintec wash machine provides the ideal solution for quick and efficient part cleaning. It operates within a closed chamber, contributing to a better working environment. The machine offers various features that enhance its usability. It cleans parts fast and efficiently, ensuring effective cleaning outcomes. Additionally, it is equipped with a digital operating timer and temperature control, making it easy to control and adjust according to specific requirements.
To prevent any issues related to dry running, the Spintec wash machine includes a level controller that protects its functions. This feature helps maintain the machine's longevity and reliability. Moreover, the machine is constructed using durable materials such as stainless steel for the chamber, spray pipes, nozzles, pump, and valves. This ensures its robustness and long-term performance. The Spintec wash machine also prioritises safety and ergonomics in the working environment. It incorporates a lid with gas springs, a safety switch, and exhaust connections to ensure a safe operating experience. Additionally, it provides an air gun for drying the parts and adjustable feet for easy installation. These features come as standard in all machines, further enhancing the usability and convenience of the Spintec wash machine.
Options
Removable basket gives more possibilities for material handling in production.
Loading trolley for ergonomically moving heavier loads.
7-day timer heats the liquid up according to the operation schedules.
Closed loop filtration cleans the wash liquid particle free and prolongs wash liquid lifespan time.
Oil separator removes free oil from wash liquid and reduces waste liquid volumes.
Automatic refill and detergent dosing ensure consistent cleaning result for longer production series.
Heat insulation saves energy in cooler environments.
Control system
Digital treatment timer (00:00 – 99:59 mm:ss)
Digital temperature controller
Treatment start/stop buttons
Heating on/off switch
Basket rotation switch (with optional removable basket)
Low level alarm
Dry run protection
Inter lock for the lid
Emergency stop
Main switch
| Name | Wash basket Spintec 82 | Wash basket Spintec 105 | Wash basket Spintec 125 |
| --- | --- | --- | --- |
| Basket diameter (mm) | 820 | 1050 | 1250 |
| Max load (kg) | 150 | 200 | 300 |
| Material | AISI 304 | AISI 304 | AISI 304 |
Rolls for moving the basket between trolley and spray cleaner.
| Name | Loading trolley Spintec 82 | Loading trolley Spintec 105 | Loading trolley Spintec 125 |
| --- | --- | --- | --- |
| Material | AISI 304 | AISI 304 | AISI 304 |
Enables loading of washed parts outside of machine as well as moving basket to and from machine. Locks on to the spray cleaner with manually operated levers. Locking of basket during transport.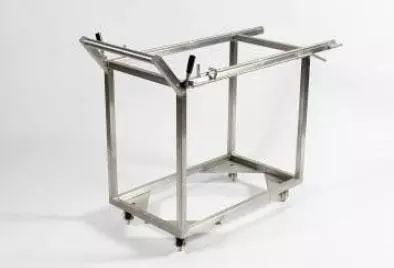 Model
Spintec 60
Spintec 82
Spintec 105
Spintec 125
Function
Single stage top loading spray cleaner. Spray in air with fixed nozzles, basket rotation.
External dimensions (mm)
1000 x 755 x 1150 (h)
1250 x 950 x 1250(h)
1500 x 1250 x 1350(h)
1800 x 1500 x 1600(h)
1550(h) lid open
1750(h) lid open
2000(h) lid open
2400(h) lid open
Basket diameter (mm)
600
820
1050
1250
Usable load height (mm)
300 (fixed basket)
400 (fixed basket)
500 (fixed basket)
640 (fixed basket)
360 (removable basket)
460 (removable basket)
600 (removable basket)
Max load (kg)
80
150
200
300
Tank capacity(l)
50
120
220
450
Heating power (kW)
4
4
7,5
15
Temperature range (°C)
20 - 80°C
20 - 80°C
20 - 80°C
20 - 80°C
Pump
Centrifugal pump Ebara CDX, 3- phase, 60 l/min, 1,5 bar, Seal C-CE- NBR.
Centrifugal pump Ebara CDX, 3- phase, 120 l/min, 2 bar, Seal C-CE- NBR.
Centrifugal pump Ebara CDX, 3- phase, 140 l/min, 3 bar, Seal C-CE- NBR.
Centrifugal pump Ebara CDX, 3- phase, 190 l/min, 3,2 bar, Seal C-CE- NBR.
Filling valve
R ½"
R ½"
R ½"
R ½"
Drain valve
R 1"
R 1"
R 1"
R 1"
Level sensor
Conductive sensor
Voltage (VAC)
380/220 – 415/240
380/220 – 415/240
380/220 – 415/240
380/220 – 415/240
Frequency (Hz)
50
50
50
50
Connected load (kW)
6
6
10
18
Fuses
3x 32A
3x32A
3X32A
3X32A
Recommended Cleaning Fluids for Spintec Spray Washer
| Type | Package Size | Product Code | Alkaline or Acid | PH approx | Dilution % Suggested | Temp °C Suggested | Suggested Use | Comments |
| --- | --- | --- | --- | --- | --- | --- | --- | --- |
| Decoclean 440 | 25 Litre | 362945 | Alkaline | 13 | 1 - 3% | 50 - 80°C | Heavy contamination on Ferrous metals only | Do not use on Non-ferrous metals. Rinse well. |
| Decospray TM | 25 Litre | 363162 | Alkaline | 9.6 | 1 - 3% | 60 - 70°C | Removes oils and does not attack metals | It temporarily protects the parts against oxidation |
| Decospray HT13 | 25 Litre | 363163 | Alkaline | 14 | 2 - 3% | 70 - 75°C | Removes oils from Non-ferrous materials | Very high degreasing power |