Ultrasonic Grinder/Polisher - Kemsonic Mono
Introducing the new KemSonic Mono ultrasonic grinder/polisher with a touch screen that enables easy and convenient control. The KemSonic Mono comes complete with large ultrasonic handpiece, 240 V - 60 Hz, stroke length 4 up to 40 μm infinitely adjustable, output 60 watts, oscillation frequency 18-26 kHz, and an accessories kit.
The Kemsonic Mono automatically searches for the optimum frequency on start-up and all that's needed is for the power to be adjusted to the required level and you're ready to go.
With the standard, large ultrasonic handpiece, pressing the turbo button will boost the short term performance. The combination of Xebec ceramic polishing stones and the Kemsonic Mono ultrasonic system is unbeatable. With this system the hard skin can be eroded quickly and cleanly, to provide the optimal starting surface for subsequent processing steps.
The Kemsonic Mono standard package consists of:
Intelligent control unit
Ultrasonic Handpiece PSHG (M8)
Handpiece tray
3 different tool holders
Key set
Footswitch
Power cable
Storage box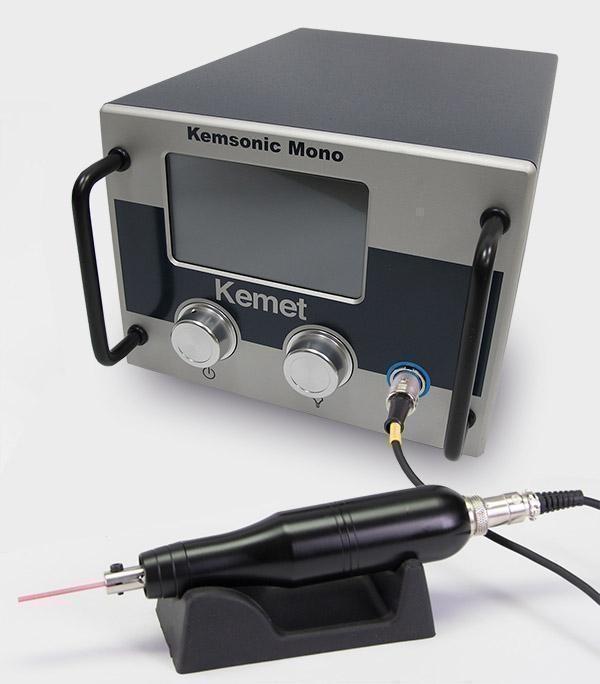 Technical data: Ultrasonic polishing system
Output up to max.
60 watts
Strokes:
30,000/sec.
Stroke length:
3 - 40 μm
Frequency:
automatic adjustment
Control:
stepless
Tool size
M8 (or M6 with adapter)
Dimensions
170 x 260 x 140 mm
Weight
2.1 kg
Product Code
339221