Sonic Cutter ZERO - Ultrasonic Cutter
High performance cutter applying ultrasonic vibration at a rate of 38,000 - 40,000 times per second. The easy to maneuver razor sharp cutting edge enables delicate work even on complicated shaped objects. Ultrasonic vibration provides a sleek and precise finish, especially effective for cutting complicated and precise shaping (For cutting fabrics, latex, films, plastics, urethanes and PCB pattern retouching, etc.) and for cutting, clipping and deburring of various thin materials. An accurate and sharp cut can be ensured as there are no vibrations felt on the handpiece. Product Code: 340103
Improved visibility - The digital LED display on the controller clearly shows the status of the operating function. The Green LED on the handpiece will indicate whether the power is ON or OFF.
Lighter weight - The weight of the controller has been reduced by 46% compared to the previous model. (Sonic Cutter: 2.6 kg → Sonic Cutter ZERO: 1.4 kg)
Overheat protection function - The overheat protection function enables continuous use. When a specified temperature is detected, the output will be automatically adjusted to suppress the temperature from rising. If the excessive heat is detected, the controller will stop operating for safety.
Reduction of heat level in handpiece - Improvements in the transducer achieving a lower heat level by 28.6 degrees Celsius maximum, compared to the previous model.
Control Unit Specifications
Oscillation frequency: 38 kHz - 40 kHz
Frequency control: Auto-tracking system
Outputs: 30 W
Output adjustment: 21 steps variable
Rated input: Dual Voltage 110/240V
Weight: 1.4 kg
Dimentions: W 161 x D 256 x H 84 mm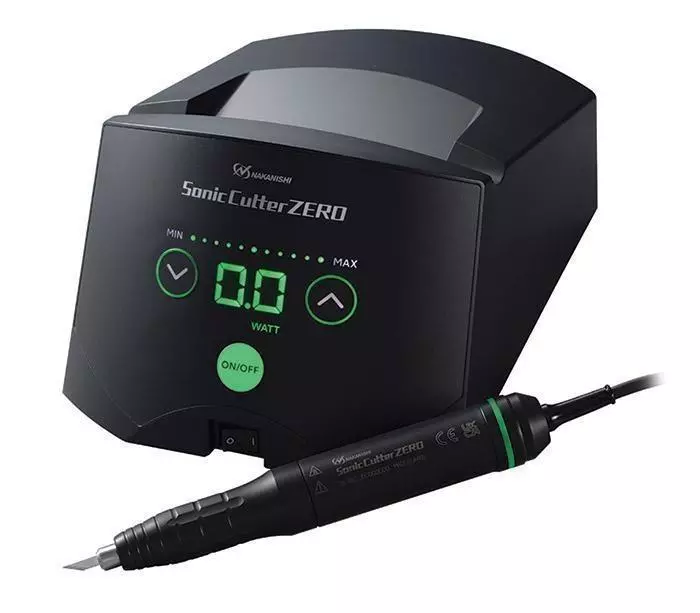 Sonic Cutter ZERO Handpiece
The vibration is not transmitted to the users' hand to enable a desired cutting result.
Heat protection function enables continuous use without any concerns of overheating.
Sonic Cutter ZERO handpiece performs sharp cutting and makes beautiful cutting surface.
NOTE: Sonic Cutter ZERO is not compatible with previous model - Sonic Cutter.
Handpiece Specifications
Oscillator: Bolt-clamped Langevin type
Setting the blade: screwed the blade W 4 mm x thickness 0.38 mm
Length of cord: 3 m
Weight: 120 g (excluding cable)
Dimensions: Max. φ25 x L 166 mm
| Sonic Cutter ZERO Spare Parts | Code |
| --- | --- |
| Foot Pedal/Switch (ON/OFF switch only) | 8103 |
| Spare Blade (4 mm x thickness 0.38 mm) | BDC-200P |
Specifications Comparison to Previous Model
| Model | Previous model (Sonic Cutter) | Sonic Cutter ZERO |
| --- | --- | --- |
| Max. output | 30 W       | 30 W |
| Oscillating frequency | 39.5 kHz | 38 kHz - 40kHz |
| Output adjustment | Automatic Oscillation, Automatic Trucking | 21 steps variable |
| Power source | Dual Voltage 110/240V | AC 100 - 240V |
| Weight | 2.6 kg | 1.4 kg (Reduced by 46% compared to previous version) |