Sheenus ZERO Ultrasonic Polisher
The Sheenus ZERO is an update to the Sheenus Neo model. It can be used for grinding, polishing and mirror finishing on a wide range of materials from aluminium dies to cemented carbide dies. It is also perfect for plastic moulds, press, casting, forging, trimming and header dies. This tool quickly removes hard layers of EDM deposits and polishes difficult areas such as complex corners and ribs. Capabilities include deburring, grinding and polishing of precision moulds, dies electronic and ceramic components. The NSK Sheenus Zero is the ideal tool for precision die polishing and burr removal. The Sheenus ZERO can produce up to 40 µm vibration with 29 kHz per second. Product Code: 340100
Effective polishing in difficult areas such as ribs, corners, side walls and complex shapes
Adjustable frequency with a digital power display which eliminates over polishing
Sensitive control to tool tip to ensure professional results
Ergonomically comfortable and light for effortless work over long periods
Homing function allows for frequency adjustments to optimise for tool material and length
New features
Enhanced design
Improved visibility - LED is installed on the hand piece and flashes during vibration
Adapted for worldwide power supply usage
Enhanced energy saving - reduced from 31 W to 27 W
Why the Sheenus ZERO is a great choice for professionals of Mould Polishing?
Overwhelming polishing power

Max. vibrational amplitude: 40 μm
29,000 times frequency per second
No vibration to hand
Able to polish at deep ribbing efficiently, which is difficult to polish by hand

Visualization by digital display

Digital display shows amplitude (unique function)
Able to standardise work with repeatable results

Frequency control to optimum level

Able to control the frequency to optimum level with the attached tool, with subtle feeling to finger-tips for delicate finishing!
Feels as if the tool is stuck to the workpiece for efficient polishing! 

Light weight hand piece

Easy to hold
Light weight: 140 g
Able to polish for longer

Enable to polish any workpiece using a wide variety of tools
Specifications Comparison to Previous Model
Model
Previous model (Sheenus Neo - NE240)
Sheenus ZERO
Max. output power
UNCLAMP mode
45 W      
45 W
CLAMP mode
20 W     
20 W
Oscillating frequency
22.5 kHz
19 k - 29 kHz
Frequency control
Homing type
Homing type
Vibrational amplitude
40 μm
40 μm
Power conditioning
Continuous variable type
Variable 21 step type
Power source
AC 100 V, 120 V, and 230 V
Dual Voltage 110/240V
Rated power consumption
31 W
27 W
Weight
1.7 kg
1.5 kg
Oscillator
Bolt-clamped
Bolt-clamped
Langevin type
Langevin type
Length of cord
2 m
3 m
Weight (excepting cord)
140 g
140 g
The Sheenus ZERO Set
A Power level indicator
B Indicator (Display the amplitude, WATT and ERROR)
C UP key/ DOWN key
D ERROR/ WATT
E ON / OFF key (Start and stop the handpiece)
F CLAMP key
G Main power switch
H UNCLAMP key
Contents:
Controller: 1 pc.
Handpiece: 1 pc.
Tools: 1 set

#601 01 Electroplated diamond file (#200, Flat taper, 4 x 50 mm, t=0.4): 1 pc.
#60519 Ceramic fiber grindstone (#800, Flat, 6 x 50 mm, t=1.0): 1 pc.
#60902 Tip holder (For round, Ø 3.0 tip): 1 pc.
#60922 Tip holder (For flat, t=1.0 tip): 1 pc.

Tool box (Plastic): 1 pc.
spanner (10 mm): 2 pcs.
Hexagon wrench (2.5 mm): 1 pc.
Foot switch (FC-24): 1 pc.
spare fuse (T1 .6AH 250V): 2 pcs.
Main power cord (2 m): 1 pc.
Dual Voltage 110/240V
Sheenus ZERO is not compatible with SHEENUS neo.
Operation Guide for the Sheenus Zero

Power ON: Press [Main power switch]. The LED on the control panel lights up.
Mode selection: Select [CLAMP key] or [UNCLAMP key] The LED of the selected key lights up.
CLAMP mode (low power) for ceramic fiber grindstone (also used for one piece tool)
UNCLAMP mode for electroplated diamond file (One piece tool)
Power level adjustment: Press [DOWN key] or [UP key] Displays the power level. (Can be adjust during vibrating)
Startup: Press [ON / OFF key] or use the foot switch. The ON / OFF key and the LED on the handpiece light up when starting up.
When using the foot switch
Factory default setting: Pressing the foot switch to start and releasing it to stop.
The setting can be changed to pressing the foot switch to start and pressing it again to stop. See attached operation manual to check how to change the setting.
If it is activated by a foot switch, it can only be stopped by a foot switch. See reverse side for connecting.
Connecting the cords to back of controller
Remove the test horn
Tool installation
A
Electroplated diamond file (One piece tool)
Tighten firmly using attached two wrenches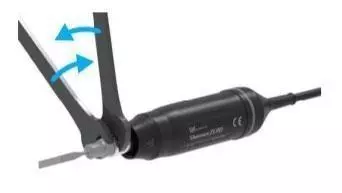 B
Ceramic fiber grindstone
Attach the tip holder to the handpiece and tighten firmly with two wrenches.
Insert the ceramic fiber grindstone into the tip holder(1) and tighten the set screw firmly with the attached hexagon wrench(2).
Common to A and B
Insert the protector sleeve into the handpiece and turn it to install it.
*Always make sure that the protector sleeve is installed before using the handpiece, as using the handpiece without it may result in burns.