Classic Diprofil Machines
The Classic polishing/filing machines, which have been the preferred choice for tool- and mould-makers for more than 60 years, are now available in Mark II editions incorporating a new tool-holder to improve ergonomics and flexibility. The Classic machine with its rigid and ergonomic design facilitates any filing, lapping, honing or polishing application. With its reciprocating (back and forth) movement the Classic machines are an excellent alternative and compliment to rotary hand-pieces.
Technical Data for Classic Diprofil Machines
Speed (maximum): 8.000 strokes/min.
Speed (recommended): 5.000 - 6.000 strokes/min
Stroke length: 0 - 6 mm.
Stroke length (recommended): 0.5 - 3 mm.
Tool holder: Ø 6.4 mm. (suitable for tool shanks Ø 2 - Ø 6.4 mm)
Weight of inserted tool: Maximum: 26 g. Recommended: 1-15 g.
Applied feed force: 2-12 N (Depending on inserted tool type and dimension.)
Noise level: Not exceeding 70 dB(A) at 7.000 strokes/min. According to ISO 15744.
Flexible-shaft driven machine
These models are driven by an electrical motor with speed control and a flexible shaft with slip-joint (European standard) or ball-joint connection (US standard) e.g. Diprofil type DSE-47. Corresponding motors of other brands may also be used.
| Model | Code |
| --- | --- |
| FPK/R | 331018 |
| FPH/R Square Hole | 332065 |
| FPS/R Key hole | 331033 |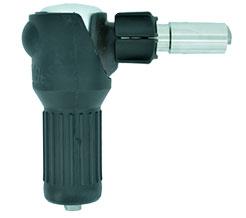 Air Driven Machines
This model is driven by compressed and oil mist lubricated air. PLEASE NOTE! The built-in air-motor may be damaged, if operated with un-lubricated air. The Diprofil quick-coupling HSL-M and fog lubrication unit MFB should be used for connection to your compressed air system. PLEASE NOTE! Protect the air inlet from dust and dirt, when not in operation.
Oil consumption: Minimum 30mm3/min at maximum speed (about 2 drops/min.)
Air pressure: 4bar (58psi).
Air consumption: Approx. 65 l/min at 8.000 strokes/min.
Weight: Approx. 740g.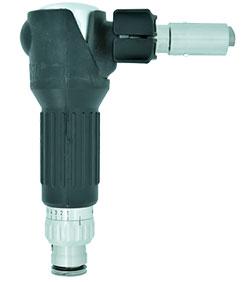 Micro Motor Connections for NSK (Espert), ENESKA 4-1, EMax Evolution, ENESKA 3-1, 3-2
These models should be driven by motors with low strokes/min and high torque only. Exceptions can be made for motors with high torque from very low strokes/min, as e.g. Diprofil motor HPM-BL1 brushless motor for Power Unit TPU-20 or corresponding power unit. Output: BL DC 0-32V or DC 0-32V.
Weight: Approx. 560 g. (without micro motor).
| Model | Code |
| --- | --- |
| FPT/ER | 331036 |
| FPT/NR | 332066 |
Micro Motor Driven Machines
These models are driven by a built-in micro-motor, which is connected to, and controlled by, the DIPROFIL DPU-3, TPU-20 or corresponding power unit. Output: DC 0-32V.
| Model | Code |
| --- | --- |
| FPM/R | 331011 |
| FPM/ERJ | 332067 |