Di-Pro low vibrating Polishing / Filing Machine
The Di-PRO® machine is the flagship of the Diprofil family. With its low levels of potentially harmful vibrations it is the natural choice when operating the machine for long hours. It is ideal for a wide variety of applications such as filing, lapping, honing, de-burring and polishing.

Advantages with the Di-PRO® machines:
Available for/with a wide variety of drive sources
Very low levels of potentially harmful vibrations
Adjustable stroke length 0 - 6 mm
Well-known and trusted design
The new Mark II advantage:
Improved ergonomics.
No moving parts on the tool-holder.
Includes an extension pipe for longer tools.
More lightweight compared to previous versions.
Even lower risk of sustaining vibration related injuries.
Technical Data for Di Pro Polishing/Filing Machines
Speed (maximum): 7.000 rpm.
Speed (recommended): 5.000 - 6.000 rpm.
Stroke length: 0 - 6 mm. (recommended 0.5 - 3 mm). NOTE! At stroke lengths exceeding 4 mm we recommend a maximum speed of 5.000 rpm.
Tool holder: Ø 6.4 mm. (suitable for tool shanks Ø 2 - Ø 6.4 mm).
Weight of inserted tool: Maximum 34 g Recommended 1-15 g.
Applied feed force: 2-12N (depending on inserted tool type and dimension).
Noise level: Not exceeding 75 dB(A) at 7.000 rpm.
Flexible-shaft driven machine
The FXK-N, FXS-N and FXH-N models are driven by an electrical motor with speed control and a flexible-shaft with slip-joint (European standard) or ball-joint connection (US standard) e.g. Diprofil type DSE-47. Corresponding motors of other brands may also be used.
| Model | Code |
| --- | --- |
| FXK-N | 332041 |
| FXH-N Square Hole | 332042 |
| FXS-N Key hole | 332043 |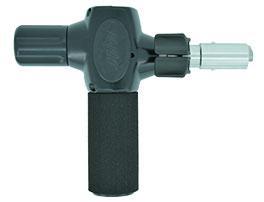 Air Driven Machines
The FXL-N model is driven by compressed and oil mist lubricated air. PLEASE NOTE! The built-in air-motor may be damaged, if operated with un-lubricated air. The Diprofil quick-coupling HSL-M and fog lubrication unit MFB should be used for connection to your compressed air system. PLEASE NOTE! Protect the air inlet from dust and dirt, when not in operation.
Oil consumption: Minimum 30 mm3/min. at maximum speed (about 2 drops/min.).
Air pressure: 4 bar (57 psi).
Air consumption: Approx. 60 l/min at 7.000 rpm
Weight: Approx. 900 g.
Micro Motor Driven Machines
The FXM-N and FXM/EJ-N models are driven by a built-in micro-motor, which is connected to, and controlled by, the power unit DIPROFIL DPU-3 or TPU-20 or corresponding. Output: DC 0-32V. (The needed voltage at a certain rpm is depending on the micro motor and the power unit).
| Model | Code |
| --- | --- |
| FXM-N | 332048 |
| FXM/EJ-N | 332049 |