Laser Marking Machines
With the Kemet laser engraving machine you can engrave various materials in-house. The device is ideal for detailed markings. A PC controls the system and is very easy to use. Software features:
Textual design, with a huge choice of fonts
Barcode or QR code, so marked items can be easily identified with a scanner or smartphone
(Vector) images
You can draw, arrange, align and group shapes
Within the software, the speed and frequency of the laser can be varied for each part of the design
By varying the parameters speed and frequency, you control the depth of the engraving. This in turn gives a difference in colour. This is also the way to match your design to the material to be engraved. For your convenience, some materials and their parameters are already predefined in the parameter library.
Example of height difference
Height differences of 3 mm are compensated without loss of quality.
Example of cavity
Punch Ø: 15 mm
Font size: 3 mm
Stock removal: 0.5 mm
This overview shows you results by varying the forward feed and frequency. The output is always set to 35% in this example. The numbers from 100 to 800 represent the forward feed rate and the numbers from 20 to 70 indicate the selected frequency.
Benchtop Laser Marking Machine (PLMP20 model)
Whenever greater flexibility is required, it makes sense to use an open laser marker. Here you have considerably fewer restrictions with regard to the workpiece size. In addition, you can swivel the LaserMarker head (on the PLMPF30 model) as desired, making it possible to apply markings on vertical surfaces for example.
Laser Marker Machine (PLMPF30 model)
PLM20
PLM30
PLMP20
PLMPF30
Mains voltage
220-240 V, 0.5 kVA, 50 Hz
Type
Fibre Laser
Output (w)
20
30
20
30
Wavelength (nm)
1064
Marking area (mm)
110 x 110
Working area (mm)
350 x 230 x 130
N/A
Dimensions (mm)
Control Unit
680 x 428 x 705
400 x 210 x 490
Laser Unit
600 x 95 x 140
Device
600 x 305 x 680
(1370-1480) x 850 x 800
Weight (kg)
63
40
51
Closed Laser Marker (PLM20 & PLM30 models)
Accessories
Continuous marking of cylindrical components is not possible without a motorised rotary axis. The motorised rotary axis continuously moves the workpiece into the optimum position. Marking is performed evenly over the entire length. Two sizes are available. With the standard lens, the marking area is 110 x 110 mm. This area can be increased for example by changing the lens.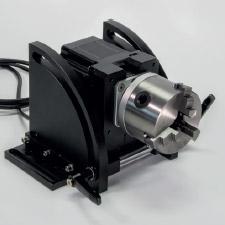 Rotary axis, motorised
Clamping width: up to 80 mm

Rotary axis, motorised
Clamping width: up to 60 mm

Eye protection glasses
for LaserMarker systems

Lens
for LaserMarker systems Max. marking area 150 x 150 mm
(other sizes on request)

X/Y table
Dimensions: 95 x 350 x 270 mm
Drilling holes: M6 (25 x 25 mm grid)
Colour: silver
Weight: 7.6 kg