Gesswein Abrasive Stones
You can efficiently process mould surfaces with polishing stones. The great diversity of stones makes it difficult to choose the type that perfectly suits your application. Gesswein Abrasive Stones are designed to be used directly after machining, or spark eroding, in the preparation of surfaces for final polishing. All stones are manufactured to high standards from a liquid mix of the abrasive and the bonding agent, which is then fired in a thermostatically controlled kiln to ensure uniform distribution of the abrasive particles in each stone.
Gesswein stones are made up of an abrasive grain of different types of aluminum oxide or silicon carbide in a carrier. The stones are cut after firing and ground to size when cold, this process yields consistent quality and performance. Care should be taken in use and storage to prevent contamination from one grit, or type, to another. It is recommended that Kemet Stoning Oil is used as a lubricant with the stones.
Which Gesswein polishing stone is most suitable for your application?
For the rough work you choose a coarse grain, for a low roughness it is better to use a less coarse stone. Soft carriers are ideal for machining tool steel and soft non-ferrous metals. Hard stones are more likely to be used with hardened materials. The wear rate of the stone determines whether it quickly takes the shape of your workpiece. It is often useful to use a cutting oil when polishing. However, some stones can also be used dry.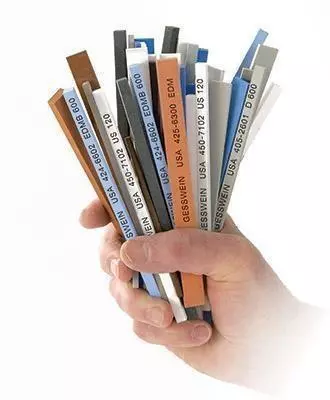 Use the chart below to determine which finishing stone is right for you based upon the type of surface or contact us to ask our technical staff to choose the best stone for your application.
u = Most commonly used for each application.
Gesswein Diemaker (DF)
(Beige/light brown) This range of stones has established itself as one of the most popular in use today. Fast cutting with moderate breakdown, the DF can be used on both hard and soft steels, and is also suitable for some non-ferrous materials. Able to be used by hand or in profiling machines.
Gesswein EDM Orange
(Orange) stones are designed to remove the tough hard scale left by ElectroDischarge Machining. These stones contain extra sharp particles of Aluminium Oxide, together with a small amount of Chromium Oxide, within a special bond, which enables them to follow contours. May be used by hand, or in a profiler.
Gesswein EDM Blue
(Blue) stones are a natural development from the extremely popular EDM (orange) stones. Due to the inclusion of a small amount of cobalt, they are harder than EDM, maintaining their strength even in small section sizes, with good resistance to loading. Excellent for use in profiling or ultrasonic machines. EDM Blue stones break down slowly and cut fast. Very good for detailed work.
Gesswein Oil Treated (OT)
These stones have been increasing in popularity over recent years. Able to be used on hard or soft mould and die steels, OT stones are made from white premium grade Aluminium Oxide, in a medium/hard bond, which is soaked in oil during the manufacturing process. This enables the stones to be used, if required, without lubrication. OT stones maintain good shape during use, and are excellent for processing machined or even EDM surfaces. Good for use in profiling machines.
Gesswein Premium White (PW)
Hard general purpose polishing stone, made of pure white premium Aluminium oxide abrasive, for use on all steels from hard to softer. Exposed sharp grains cause the stone to cut well. Good shape retention for finishing surface details. A special additive makes this stone load resistant. Both our PW and OT stones work well in a profiler and ultrasonic polisher.
Gesswein RA
Manufactured from very hard Aluminium Oxide within a resin bond to give flexibility and resilience. Excellent for corners, deep ribs and areas of fine detail, these stones produce a finer finish than other stones of the same grit. RA stones are extremely versatile and may be used by hand, or with profiler or ultrasonic.
Gesswein General Purpose (GP)
Cuts well, holds their shape and resists loading.
Made of extra-sharp pure white aluminium oxide grains in a specially formulated bond & a proprietary treatment.
Suitable for use on both EDM and machined surfaces of all tool and hardened steels.
Polishers will notice the special treatment provides a lubricating effect.
Gesswein Mouldmaker (MF)
(Grey/Blue), soft-bonded Silicon Carbide, which constantly presents fresh sharp edged particles to the work material. These stones produce fast stock removal and are widely used on hardened steel surfaces, as well as to rough finish non-ferrous materials. Excellent for contours. Generally used by hand.
Gesswein Mouldmaker Plus (MFP)
(Grey/Blue), slightly harder than MF, the MFP cuts well with slower breakdown. It is a good choice for contours and radii, and generates a silky matt surface on hardened steels. Can be used on non-ferrous materials. May be used by hand or in a profiler.
Gesswein Super Fine (SF)
Made of levigated alumina, SF series has a very rapid breakdown and does not scratch. Ideal for finishing steel. An excellent stone for final finish prior to diamond polishing.
Gesswein Ultra Soft (US)
Specially developed for use on soft and non-ferrous metals, with excellent results obtained on Aluminium in particular. Manufactured with an extra soft bond, the US stone shapes readily to contours. Fast cutting without loading. Recommended for use by hand only.
Gesswein Rough Out (ROX)
Large, coarse, relatively soft stones containing aluminum oxide.
Cuts fast with rapid breakdown.
Quickly remove rough scratches and machine tool marks.
A good choice for roughing surfaces of larger molds and dies.
Ideal for "hogging" out large amounts of material prior to finishing.