Spherical/Ball Lapping & Polishing
Current buffing processes used to polish spherical balls and cups can detrimentally effect the roundness. Current machines used to polish spherical balls and cups have between 10-20% failure rate. The machine and process developed at Kemet International produces a mirror polish, holds geometry and can correct these failures while maintaining roundness down to 2 microns. The whole process takes less than 9 minutes. The system can be used on most materials including ceramic, natural metals and alloyed metals.
Applications include:
Bearing Manufacture
Valve assemblies
Pump Components
Material that can be polished include:
Cobalt Chrome
Stellite
Ceramic
Other materials may be possible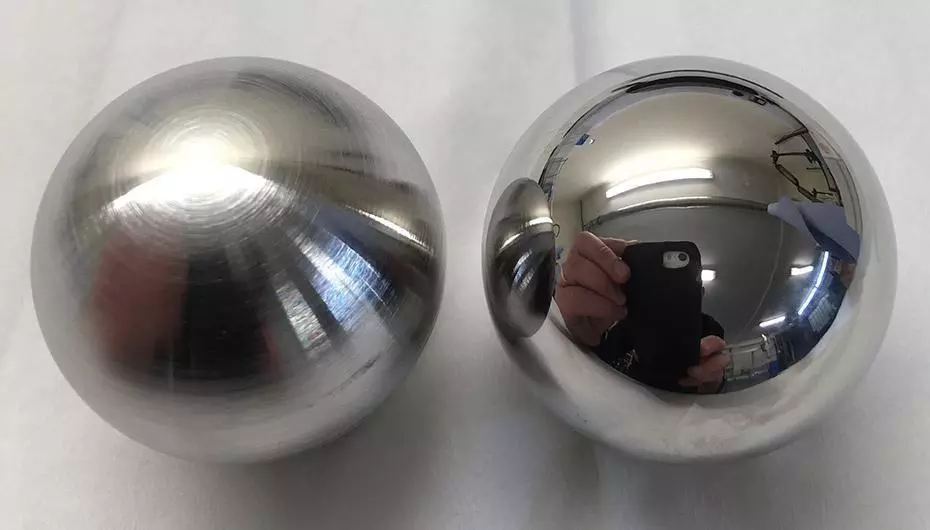 Kemet introduced their first spherical lapping and polishing machine in 2004, primarily for the medical industry where at the time, the best hip replacement system available relied on balls and cups with a roundness and sphericity of <0.002mm. The big problem at that time was not machining a spherical to these standards, the challenge was to produce a perfect blemish free mirror polish whilst still maintaining these tight tolerances.
The result from this first application was the Kemet SPM, a twin station lapping and polishing machine that could either be used as a standalone system, or as a secondary supporting machine for an existing machining centre that, on its own, would not be able to generate the scratch free mirror polish that the industry demanded. The SPM has capacity for a spherical from 20mmø up to around 60mmø and can be either a ball or cup. The 2-stage process takes around 7 minutes per stage and produces a blemish free mirror polish using a combination of a special polishing pad and Kemet's ISO 9001: 2015 accredited diamond compound.
Following the success of the SPM, more spherical applications were received by Kemet. However, many of these were simply to replace manual hand matching of spherical forms and it became clear that the SPM was not a natural solution, particularly because most of these new Aerospace applications did not require to be polished. To meet this new requirement Kemet developed the KemiSphere, a benchtop single station machine and now the KemiSphere II, a PLC controlled benchtop machine with optional pressure system and fully programmable HMI.
KemiSphere II - Bench Top Spherical/Ball Polishing Machine
The KemiSphere II is a small single station spherical lapping and polishing machine ideal for either matching 2 spherical forms together or, with appropriate tooling, it has the ability to lap and polish spherical forms to better than 5μm roundness with a mirror finish. It's a perfect replacement for jobs currently hand lapped together, and its bench top design makes it a useful addition to any workshop involved in spherical lapping.
These machines provide an extremely economical repeatable way of processing spherical forms to a huge variety of surface finishes and can process a range of different materials either to be lapped as an individual component, or to match lap spherical forms together. It can be very difficult to document or validate a process that is currently being performed by hand so in these cases the KemiSphere II provides a perfect solution. The HMI allows component specific programs to be stored with drive speeds, sweep angles, process times and pressures. Kemet also offer to prove a process within their testing labs producing test data and samples so that all questions can be answered prior to even ordering a machine. This also means that machines are typically delivered pre-programmed ready for use whatever the application.
3 motors with independent variable speed control
Siemens PLC and HMI
Pressure application system
Benchtop machine
Process parts up to 100mm diameter
Programmable sweep start and finish point
Single button process start
Manual and jog facility for simple machine setting
CE marked
Fully guarded with interlocks
Dimensions: 906 x 1055 x 549mm
230V-single phase-50Hz
Product code: 359316
Square Polishing Pads for the KemiSphere
The Sphericloth Polishing Squares incorporate new unique flock length technology. This technology allows a far greater flow of polish to the pad increasing dramatically the amount of polish at the surface during the polishing cycle. When this increase in polish is combined with the enhanced polishing action of the new flock design you are left with an outstanding example of a polished surface.
Type
Description
127 x 127mm
Sphericloth-A
For general purpose, single use spherical polishing pads.
341998
Sphericloth-B
341966
NLH
For high gloss spherical polishing
341276
Kemet Spherical Lapping Machine - Floor Standing
The Kemet Spherical Lapping Machine laps and polishes pre-machined spherical balls and cups to a mirror finish with the capability of achieving roundness better than below 3 microns.
Features & Benefits:
6 motors all with independent variable speed to provide complete control
Size: 1600 (W) x 820 (D) x 2500 (H) mm
Lapping and polishing pressures applied pneumatically
Average process time less than 5 mins
Simple change from ball to cup polishing action
Manual and jog facility provided for setting up
Fully guarded with auto lifting door access
Comes complete with initial tooling set
Full manual and training provided
Low running costs
Dual process timers
Single button process start
Lighting provided
Smooth and silent running
CE marked. Electrical supply 230V-single phase-50Hz or 110V-single phase-60Hz
Air: 3 bar max
Product code: 360061
Advantages
Able to process all common materials including Stellite, Ceramic and Cobalt Chrome.
Simple fixture designs to accommodate all styles of product.
All critical parts manufactured from stainless steel.
Modular design to enable easy configuration of manufacturing cell (Eg 2 x polishing stations or 2 x lapping stations).
Dedicated approved consumable formulations to give consistent repeatability.
Built in cleaning option between stages.
Why Should you choose a Kemet Spherical Polishing system?
Proven and established technology.
No more buffing by hand.
Able to correct failures produced by other Spherical polishing machines.
Superior mirror polish is achieved.
Kemet machines hold geometry and achieve roundness better than 2 Microns.
Able to process common materials such as Stellite, Ceramic and Cobalt Chrome.
Ball Polishing Case Studies
Test Requirements: To polish modular heads
Component/Material: Ground heads
The ground components all lapped within the standard 8 minute cycle, and polished in 4 minutes using the Kemet Spherical Polishing Machine. The Kemet spherical polisher is ideal for all engineering workshops where polishing and surface finish on a range of components are of prime importance.
Test Requirements: To lap 2" Flow Control Ball Valve ready for Chrome Coating (Ra better than 0.4 µm). Roundness better than 10 µm
Component/Material: 2" Non plated Semi Spheres.
Process Breakdown
Stage
Matching
Abrasive type/grade
Process time
1
Rotary control valve
Silicon carbide 22 micron
20-35 Minutes
Parts were lapped on the Kemet Spherical Lapping Machine and checked every 10 minutes on a roundness machine until roundness was better than 10 µm. (parts turned before lapping to 40 µm)