Vibratory Polisher for Metallography & Petrography
The Vibrapol is a vibratory polisher designed to prepare high quality polished surfaces on a wide variety of materials, such as; electron-backscatter diffraction (EBSD) applications, AFM (atomic force microscope), SEM (scanning electron microscopy) analysis, surface polishing on soft and ductile materials such as Titanium, Aluminium, pure Copper, Copper alloys, Aluminium alloys, Steel, Nickel-based alloys and Nano indentation or micro- hardness testing.
The high frequency vibration in horizontal motion produces a very effective polishing action to remove minor deformation remaining after mechanical preparation and reveal the stress-free surface. The Vibrapol is equipped with a variable frequency and voltage controller, this allows the operator to optimise the frequency and voltage independently depending upon specimen size and weight. The Vibrapol has a programmable timer for better control of the polishing process.
Features
Low power consumption and noise design with piezoelectric vibratory plate, light weight but stable in operation
Easily replacement design on disc, convenient to change and clean
7" LCD touch screen
Save up to 20 customized programs
Automatically adjust frequency setting
Ideal for all materials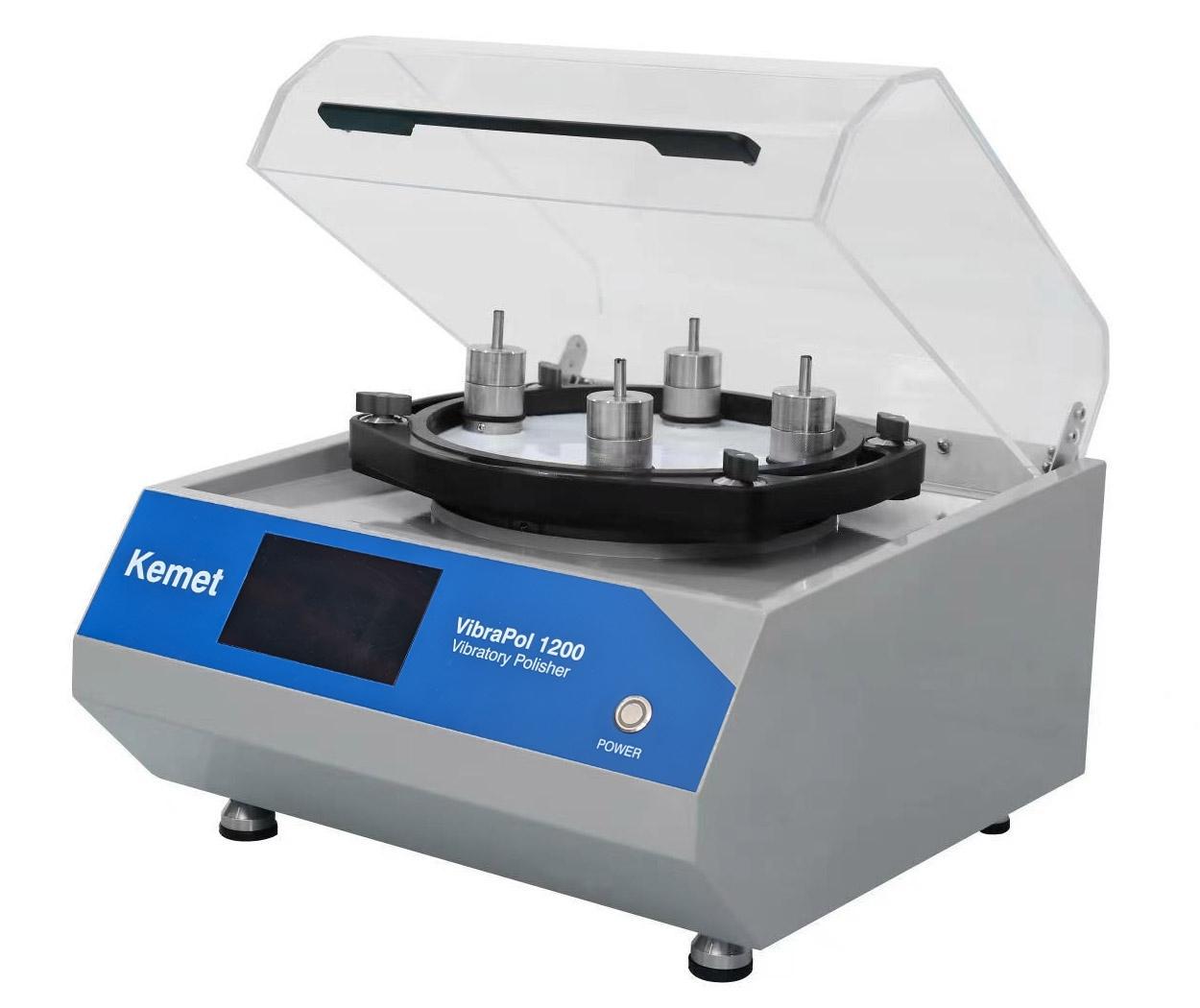 Recommended Consumables for Vibrapol
Product
Code
CHEM-H polishing cloth (For final polishing with colloidal suspensions on medium to hard materials)
300mm
341784
200mm
341782
MRE polishing cloth (For final polishing with colloidal suspensions on soft materials)
300mm
341714
200mm
341712
NSH-B polishing cloth (For final polishing using alumina suspensions)
300mm
341203
200mm
341257
Colloidal silica, Col-K (NC) (For final polishing stage)
1 Litre
600261
5 Litres
600199
Alumina suspension, 0-1 micron (For polishing steel & hard metals)
1 Litre
600711
Alumina suspension, 0-0.7 micron (For polishing semi-hard metals)
1 Litre
600712
Alumina suspension, 0-0.3 micron (For polishing soft metals)
1 Litre
600713
Alumina suspension, 0-0.05 micron (For polishing soft materials)
1 Litre
343591
| Description | Vibrapol 1200 |
| --- | --- |
| Bowl Size (mm) | Ø300mm / 12" |
| Power | 110 / 220V single-phase (50/60 Hz) |
| Rated Power | 50W |
| Dimension (WxDxH) | 516 x 503 x 379mm (cover opening: 607 x 503 x 669mm) |
| Weight(kg) | 53 |
| Sample holder sizes | 1" - 2", other sizes can be customised |
| Product Code | 370200 |