Flexible Hardness testing modules for automated systems
These testing modules are ideal for the task of expanding on existing systems. Hence expense can be spared as there is no need to acquire special machinery, plants or lines. The testing module can also be integrated into new plants, systems and production lines. This enables hardness testing to be added directly to the flow of production as early as the planning phase. Work pieces do not need to be removed from the production process and 100% of the pieces can be tested.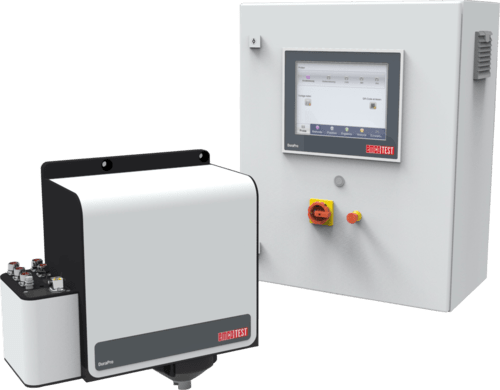 Quickest possible Rockwell tests
DuraPro 100 uses the indent depth gauging hardness testing method. Since optical evaluation of the test indentation is not required, results can be obtained very quickly. Load application occurs via the tried and tested spring bushing system. Spring bushing can be used for a broad spectrum of load ranges and can be changed as required.
DuraPro 300/400/500 are universal hardness testing modules with a high definition 1/2" camera for fully automatic, standardised image analysis of optical testing methods. Load application is done via the tried and tested closed control loop method facilitating a larger test load range.
Ultramodern autofocus technology
The autofocus function is based on the principle of direct pressure gauging by which the integrated weighing cell registers exactly when the indenter touches the surface. In this way the focusing can already be determined while testing.
Fully automatic image evaluation
One important factor in ensuring the accuracy of test results is the measurement of the test indentation. Exact results can only be achieved with clearly distinguishable test indentations, optimal contrast settings and ideal brightness. The camera electronics regulate picture settings independently of the operator, thus maximising image recognition. Particularly when testing unpolished surfaces, this function is a prerequisite for automatic, operator-independent indentation recognition.
Brinell
According to ISO 6506, ASTM E10
| | | | |
| --- | --- | --- | --- |
| 1/1 | 1/2.5 | 1/5 | 1/10 |
| 1/30 | 2.5/6.25 | 2.5/15.6 | 2.5/31.25 |
| 2.5/62.5 | 2.5/187.5 | 5/25 | 5/62.5 |
| 5/125 | 5/250 | 5/750 | 10/250 |
| 10/500 | 10/1000 | 10/3000 | HBT* |
* not standardised
Vickers
According to ISO 6507, ASTM E384, E92
HV 1
HV 2
HV 2,5
HV 3
HV 5
HV 10
HV 20
HV 30
HV 50
HV 60
HV 100
HV 120
HV 125
HV 150
HVT*
Plastic testing
According to EN ISO 2039
| | | | |
| --- | --- | --- | --- |
| 49.03N | 132.9N | 357.9N | 961N |
Rockwell
According to ISO 6508, ASTM E18
| | |
| --- | --- |
| HRA – HRV | HR15-N/T/W/X/Y |
| HR30-N/T/W/X/Y | HR45-N/T/W/X/Y |
Knoop
According to ISO 4545, ASTM E384, E92
| | |
| --- | --- |
| HK 1 | HK 2 |
DuraPro 100 - 147–1840 N (15–187,5 kgf)


DuraPro 300 - 9,8–2450 N (1–250 kgf)


DuraPro 400 - 29–7350 N (3–750 kgf)


DuraPro 500 - 98–29430 N (10–3000 kgf)
DuraPro 100
DuraPro 300
DuraPro 400
DuraPro 500
Test load range
147-1840 N
9,8-2450 N
29,4-7355 N
98-29430 N
(15-187,5 kgf)
(1-250 kgf)
(3-750 kgf)
(10-3000 kgf)
Nose cone contact surface (WxD)
12 mm
32 x 50 mm
32 x 50 mm
32 x 50 mm
High resolution ½"
-
CMOS 1,3 Mpix
CMOS 1,3 Mpix
CMOS 1,3 Mpix
camera Illumination
-
Power LED, 48lm
Power LED, 48lm
Power LED, 48lm
Dimensions
Test unit (H x W x D)
380 x 1 0 x 120 mm
525 x 510 x 255 mm
525 x 510 x 255 mm
525 x 510 x 255 mm
Control unit (H x W x D)
550 x 400 x 250 mm
950 x 600 x 350 mm
950 x 600 x 350 mm
950 x 600 x 350 mm
Weight test unit
approx. 20 kg
approx. 60 kg
approx. 60 kg
approx. 60 kg
Weight control unit
approx. 20 kg
approx. 50 kg
approx. 50 kg
approx. 50 kg
Movements to be performed
Positioning movement
customer system
customer system
customer system
customer system
Clamping- / releasing movement
customer system
customer system
customer system
customer system
Test cycle movement
Testing module
Testing module
Testing module
Testing module
2-position swivel body
-
Motor-driven
Motor-driven
Motor-driven
Image evaluation
-
manual/automatic
manual/automatic
manual/automatic
Brightness regulation
-
automatic
automatic
automatic
Zoom
-
2-step
2-step
2-step
Focusing
-
automatic
automatic
automatic
Depth gauging system
Length gauge 0,05µm
Length gauge 0,05µm
Length gauge 0,05µm
Length gauge 0,05µm
Display
4,7" Touch display
12" Touch display
12" Touch display
12" Touch display
Operator software
DuraJet/DuraPro
ecos Workflow
ecos Workflow
ecos Workflow
Electrical connection
Voltage
230V~1/N/PE
230V~1/N/PE
230V~1/N/PE
230V~1/N/PE
1 0V~1/N/PE
1 0V~1/N/PE
1 0V~1/N/PE
1 0V~1/N/PE
Frequency
50/60 Hz
50/60 Hz
50/60 Hz
50/60 Hz
Max. voltage variance
± 10 %
± 10 %
± 10 %
± 10 %
Main fuse
C16 A
C16 A
C16 A
C16 A
Power consumption
max. 120 W
max. 1500 W
max. 1500 W
max. 1500 W
Data interface
1x RJ45, 1x USB 2.0
Ethernet (RJ45)
Ethernet (RJ45)
Ethernet (RJ45)
Communication with controls
Profi Bus
Hardware in-/output sockets
Hardware in-/output sockets
Hardware in-/output sockets
Hardware in-/output sockets
Operating conditions
Protection EN 60529, control unit
IP54
IP54
IP54
IP54
Protection EN 60529, test unit
IP54
IP50
IP50
IP50
Room temperature
5 - 40°C
5 - 40°C
5 - 40°C
5 - 40°C
Relative humidity (not condensing)
up to 90%
up to 90%
up to 90%
up to 90%
Connection cables length*
10 m
10 m
10 m
10 m