Wet Abrasive Cut Off Machines for Metallographic Samples
Chop cutting machines METACUT 302 is the ideal abrasive cut-off machine for metallographic samples, offering perfect solutions for efficient, versatile and high-quality cutting.
Chop cutting machines METACUT 302 is designed for wet cutting of large and small, regularly or irregularly shaped workpieces of metallic, ceramic or composite materials. METACUT 302 is a table top high quality cutting machine suitable for Ø300 and Ø250 mm cut-off wheels. It has the capacity to cut solid sections up to 115 mm in diameter.
Compact and powerful
Easy and quick operation
Designed for cutting large and irregular workpieces
Manually controlled cutting lever
Max. safety with electronic brake and interlocking safety device
Stainless steel cutting bed
Suitable for both Ø300 mm and Ø250 mm cut-off wheels
The side access port permits the sectioning of extra-long workpieces, as well. The machine is equipped with a powerful motor, driving the cut-off wheel towards the workpiece. The bottom part of the machine is a large robust alloy base casting. The cutting table is provided with T-Slots increasing the versatility so that different clamping sets can be mounted. Spacious cutting chamber and extra-large cutting table enables easy clamping of the specimens to be cut. The quick-clamping devices are removable to permit the installation of conventional clamping tools to hold larger or more intricate workpieces.
The complete system is enclosed in a protective hood with a large shatter proof window to observe the cutting process. The cutting chamber inside is illuminated with a powerful LED.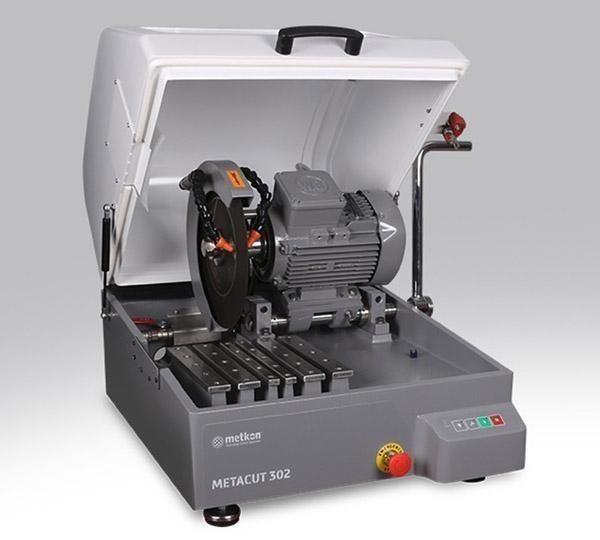 | Model | Metacut 302 |
| --- | --- |
| Cutting Power kW (S1) | 3 |
| Cutting Power kW (S3) | 4.6 |
| Wheel Speed, rpm | 2800 |
| Operation | Manual |
| Wheel Diameter, (mm) | Ø300 / Ø250 |
| Cutting Capacity, ø (mm) | Ø115 / Ø90 |
| Cutting Capacity, # (mm) | 50 x 195 / 50 x 165 |
| T-Slot table dimension, mm (WxD) | 255 x 250 |
| T-Slot dimension, (mm) | 12 |
| Size, WxDxH, (cm) | 58 x 68 x 49 |
| Weight, (kgs) | 132 |
| Cooling Unit, (lt) | 60 |
| Mains | 3 phase 400 V, 50 Hz |
Cooling System
A closed loop recirculating cooling unit is a recommended option for the cutting machines. The cutting surface is cooled by spray nozzles whose water jets hit both the cutting wheel and the specimen. This provides an efficient cooling of the sample and prevents the overheating of the surface structure.
For cutting materials which generate a lot of swarf or for higher volume usage, we recommend " Band filter Unit " which is optionally available. It is environmentally friendly filtering the coolant and depositing the swarf in a separate container for easy disposal.