Large, Heavy Duty Abrasive Cutting Machine
The Servocut 502 has X-Y-Z triple axes cutting capability:
Z-axis Chop cutting: The specimen is clamped and the cut-off wheel approaches the specimen.
Y-axis Table-feed cutting: Feeding the clamped specimen into a rotating cut-off wheel using the T-slotted feed table.
X-axis Parallel Cutting (optional): Parallel serial sectioning in the x-axis with optional movable x-bed.
A standard 80 mm diameter outlet for fume extraction is at the back of the hood.
Cutting of Rock Thin Sections
An optional integrated vacuum pump allows cutting of not only large rock samples, but also slide mounted sections.
Kemet offer a range of vacuum fixtures which give the Servocut potential for cutting either multiple standard slide mounted specimens, or custom vacuum fixtures for special slide sizes up to 150mm x 100mm.
All of our cutting machines can be modified to provide cutting requirements on most materials. Custom slide mounts available on request.
Cutting Methods
Chop cutting ( Z-axis ) and Table feed cutting ( Y-axis ) combined with pulse cutting in automatic models is standard.
Optional Cutting Methods:
Diagonal Cut - for increased cutting capacity.
Step Cut - for extra hard materials
Segment Cut - for difficult workpieces
SERVOCUT 502 automatic models have advanced techniques and software with programmable HMI touch screen controls increasing the productivity, sample consistency and operator comfort.
Multi-Slice Cutting:
The optional automatic x-table allows programmable plane parallel sectioning. Slices of equal thickness with number of slices as well as programming slices of different thickness is possible
Cutting Parameters:
The preselection of the cutting force level as well as the setting of cutting feed rate (0,02-5mm/sec) is possible from the touch screen LCD. The feed rate is automatically adjusted, if needed reduced, resulting in perfect cuts and eliminating sample and machine damage. Pulse cutting mode is a standard feature in all automatic models for cutting extra hard specimens. Optional speed regulating unit is available to adjust the cut-off wheel speed between 600-2400 rpm.
Programmable Return Positions
SERVOCUT 502 has 3 different stop modes: Stay at the end of cutting: Stops when the specimen has been cut through. Back to starting point: Stops when it has returned to its starting point. Back to reference point: Stops when the ultimate reset point in all axes has been reached.
Database
A library of 99 different cutting programs with related specimen name or number can be saved with all cutting parameters which can be recalled at anytime. Data with cutting consumables is also listed for easy selection.
| Model | SERVOCUT 502 | SERVOCUT 502-AX |
| --- | --- | --- |
| Chop Cutting, Z Axis | Automatic | Automatic |
| Table Feed Cutting, Y Axis | Automatic | Automatic |
| Parallel Cutting, X Axis | - | Standard |
| HMI Touch Screen, (inch) | 7" | 7" |
| Step;Segment;Diagonal Cut | Optional | Optional |
| Rapid Pulse Cutting | Standard | Standard |
| Smart Feed Control | Standard | Standard |
| Table Oscillating Cutting | Standard | Standard |
| Max. Wheel Diameter, (mm) | Ø500 | Ø500 |
| Max. Cutting Capacity (mm) | Ø180 | Ø180 |
| Max. Cutting Capacity, HxD (mm) | 100 x 400 | 100 x 400 |
| Y Axis Travel, (mm) | 380 | 380 |
| X Axis Travel, (mm) | - | 200 |
| Z Axis Travel, (mm) | 350 | 350 |
| T-table dimension, mm (WxD) | 764x608 | (634+200)x608 |
| T-Slot dimension, (mm) | 12 | 12 |
| Cutting Power kW (S1) | 11 | 11 |
| Variable Wheel Speed, rpm | 600-2400 RPM | 600-2400 RPM |
| Cutting Feedrate, (μm/s) | 20-5000 | 20-5000 |
| Size, WxDxH, (cm) | 140x134x185 | 140x134x185 |
| Weight, (kgs) | 1100 | 1100 |
| Cooling Unit, (lt) | 135 | 135 |
Cooling System
A closed loop recirculating cooling unit is a recommended option for the cutting machines. The cutting surface is cooled by spray nozzles whose water jets hit both the cutting wheel and the specimen. This provides an efficient cooling of the sample and prevents the overheating of the surface structure.
For cutting materials which generate a lot of swarf or for higher volume usage, we recommend " Band filter Unit " which is optionally available. It is environmentally friendly filtering the coolant and depositing the swarf in a separate container for easy disposal.
Cutting Accessories for Servocut Abrasive Cutting Machine
Quick Acting Clamping Vice Assembly Left (Stainless Steel)
GR 0122 for SERVOCUT 502
Quick Acting Clamping Vice Assembly, Right (Stainless Steel)
GR 0121 for SERVOCUT 502
Vertical Clamping Device with clamping shoe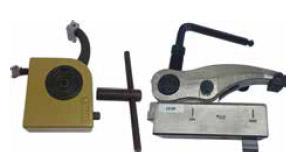 15 02 for SERVOCUT 502
Height Block
15 04 for SRC 501
Fume Condenser
GR 0124-01 for SERVOCUT 502
Flange Set with larger diameter
GR 0993 for SERVOCUT 502, Ø166 mm
Manual/Auto Table drive system with electromagnetic clutch (y-axis)(for MA and AA models)
GR 0126 for SERVOCUT 502
Low Feedrate Kit (y-axis), Feedrate range: 50 - 4.000 microns/sec
GR 0930-00 for SERVOCUT 502
Low Feedrate Kit (z-axis) Feedrate range: 50 - 4.000 microns/sec
GR 0940-00 for SERVOCUT 502
Laser allignment unit (for MA & AA models)(To be ordered simultaneously together with the machine order)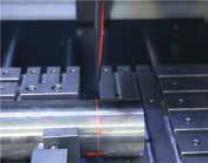 GR 0125 for SERVOCUT 502
High precision positioning unit for Automatic X-Axis
GR 1211 for SRC 501
BANDCOOL Band Filter Unit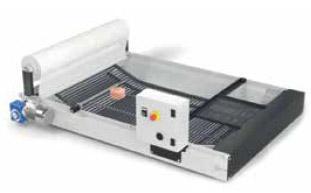 GR 0591 for SERVOCUT 502