Fully Automatic Abrasive Cutting Machine
Servocut 602 is a fully automatic high capacity cutting machine offers the advantage of combining different cutting techniques and methods to obtain superior cut surfaces for a broad range of heavy duty cutting applications. Automatic cutting guarantees the highest level of reproducibility through automatic processing of the specimen. SERVOCUT 602 has a robust and reliable design with low noise and emission levels. The modern and sturdy design with powerful 15 kW cutting motor ensures fast and efficient cutting through the hardest and complex materials with precision servo motor driven axis controls.
A large, stainless steel T-slotted feed table located in the cutter's generous work area can accommodate a variety of different clamping devices which need to be selected. The servo driven table provides a long travel depth making the SERVOCUT 602 ideal for cutting long or deep samples up to 100Hx500D in a single pass. The front sliding door and side cover can be completely opened for easy access and handling to all sides. Side access ports make it possible to make transverse sections on long specimens. A large window of Lexan and a sealed LED lamp in the cutting chamber allow precise observation of the cutting process at an optimum degree of safety.
SERVOCUT 602 has X-Y-Z triple axes cutting capability:
Z-axis Chop cutting: The specimen is clamped and the cut-off wheel approaches the specimen.
Y-axis Table-feed cutting: Feeding the clamped specimen into a rotating cut-off wheel using a T-slotted feed table.
X-axis Parallel Cutting (optional): Parallel serial sectioning in the x-axis with optional cutting wheel movement.
Extra large cutting chamber with easy access and handling.
Automatic Wheel Measurement
The cut off wheel diameter is measured prior to each cut for exact positioning. Also the peripheral cutting speed is automatically arranged by automatic wheel measurement system.
Variable Cut-Off Wheel Speed
The cut off wheel speed can be adjusted between 600-2400 rpm to optimize cutting of difficult and complex specimens. Also one type of cut off wheel can be used for various specimens without changing the cut off wheel.
AutoClean
Automatic cleaning function up to 10 min. can be performed to maintain the cutting chamber. Two powerful spiral water nozzles are perfectly located in the cutting chamber for effortless cleaning. The cleaning gun can also be used for cleaning the remained residual on horizontal surfaces.
Central Lubrication System
The Central Lubrication System is optionally available to minimize maintenance and shutdowns. The system optimizes the amount of lubrication to the machine components and supplies lubrication only when it is needed, thus reducing the amount of lube required for the machine, and limiting the chance of excess lube contaminating the coolant.
Instafeed
Optimizes the feedrate accord-ing to the specimen hardness and contact of cutting area.
Rapid Pulse
Reduces contact time and ensures maximum cooling of specimen.
Table Oscillation
During chop cutting the table makes an oscillation movement to minimize the contact and area to reduce the risk of specimen damage.
Multi Target Cutting
Several clamped specimens can be cut in one step. Same or different cutting parameters can be set for each specimen. Cut off wheel moves to the predefined start position automatically for rapid and fast positioning.
| Model | 602 | 602-AX |
| --- | --- | --- |
| Max. Cut-off Wheel Diameter | Ø600 mm | Ø600 mm |
| Max. Cutting Capacity, Ø | Ø225 mm | Ø225 mm |
| Max. Cutting Capacity, HxD | 100x500 mm | 100x500 mm |
| Z-Axis Travel, (mm) | 340 mm | 340 mm |
| Y-Axis Travel, (mm) | 560 mm | 560 mm |
| X-AxisTravel, (mm) | - | 540 mm |
| T-Table Dimension, (mm) | 772x710 mm | 772x710 mm |
| T-Slot dimension, (mm) | 12 mm | 12 mm |
| Cutting Motor Power (S1) | 15 kW | 15 kW |
| Variable Wheel Speed | 600-2400 RPM | 600-2400 RPM |
| Wheel Diameter Measurement | Standard | Standard |
| Constant Peripheral Wheel Speed | Standard | Standard |
| Cutting Feedrate, (mm/s) | 20-5000 | 20-5000 |
| HMI Touch Screen Controller | 10 inch | 10 inch |
| Chop Cutting in Z- Axis | Auto | Auto |
| Table Feed Cutting in Y-Axis | Auto | Auto |
| Parallel Cutting in X-axis | - | Standard |
| Multi Target Cutting | - | Standard |
| Table Oscillating Cutting | Standard | Standard |
| Rapid Pulse Cutting | Standard | Standard |
| Smart Feed Control | Standard | Standard |
| StepCut; SegmentCut; DiagonalCut | Optional | Optional |
| Automatic Cleaning System | Optional | Optional |
| Central Lubricating System | Optional | Optional |
| Size WxDxH | 184x173x236 cm | 184x173x236 cm |
| Weight | 1600 kgs | 1600 kgs |
| Recirculation Cooling Unit | 200 lt | 200 lt |
Accessories
Laser Alignment Unit - for rapid and accurate positioning of the cut of wheel and helps to define the exact cutting line.Cooling System - A closed loop recirculating cooling unit is a standard part of the machine. The cutting surface is cooled by spray nozzles whose water jets hit both the cutting wheel and the specimen. This provides an efficient cooling of the sample and prevents the overheating of the surface structure.Bandcool - is optionally available for cutting materials which generate a lot of swarf or for higher volume usage. Band filter conveyor for the automatic collection and disposal of swarf, with large capacity of 150 lt. for long continuous usage. Bandcool can also be matched with a magnetic separator. It is environmentally friendly filtering the coolant and depositing the swarf in a separate container for easy disposal.Filtermist - advanced fume and mist removing unit is optionally available for SERVOCUT 602. Removes coolant mist for better illumination and viewing with centrifugal separator.
Vertical Clamping Device with clamping shoe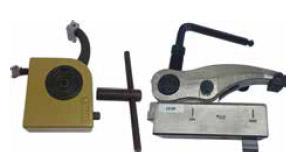 15 02 for SERVOCUT 602
Height Block
15 04 for SRC 602
Chain spanner set with anchor block
GR 0033 for SERVOCUT 602
Mechanical Clamping Device
GR 0610 for SERVOCUT 602
Serial Clamping Device for clamping multiple specimens from 1 to 5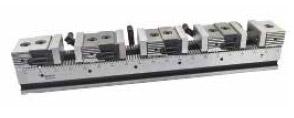 GR 0611 for SERVOCUT 602
Angular Precision Clamping Device in 3-Axis Direction
GR 0612 for SERVOCUT 602
V-Block for holding parts above table slots
15 00 for SERVOCUT 602
FILTERMIST Centrifugal Seperator
GR 0134 for SERVOCUT 602
Central Lubricating System with programmable maintenance cycle
GR 0136 for SERVOCUT 602
AUTOCLEAN Automatic Cleaning System for cutting chamber
GR 0137 for SERVOCUT 602
BANDCOOL Band Filter Unit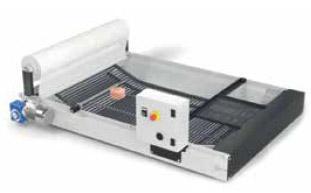 GR 0591 for SERVOCUT 602
Laser allignment unit (for MA & AA models)(To be ordered simultaneously together with the machine order)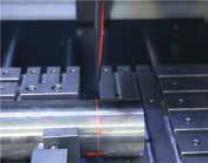 GR 0135 for SERVOCUT 602