Plastic Media For Vibratory Finishing Machines
Plastic Media is lightweight and is manufactured out of soft bonding agents, which allow it to remove burrs without rolling the burr onto the part. Suitable for obtaining a very smooth surface finish or a bright or matte finish on components made from softer materials, plastic media can be used for a long time as it maintain its shape even if it wears down and does not chip.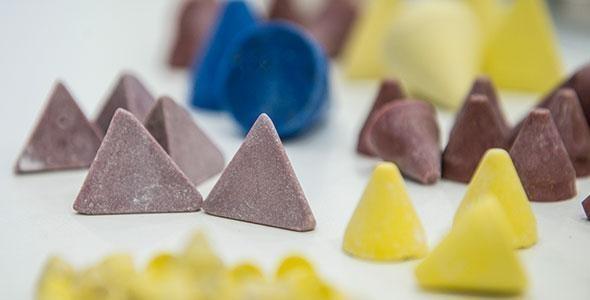 For further dimensions and special types of media specific for your application, please contact us.
Media Grade
Grinding Performance
Shape and Dimension (mm)

Cones

Paracones

Pyramid

Tetra

Tristar

Wedge

Octocone
K-BR
10
12
14
16
20
25
30
40
50
60
70
20 x 20
30 x 30
40 x 40
50 x 50
60 x 60
70 x 70
5.5
6.5
10
12
14
16
20
30
40
50
60
70
20 x 20
30 x 30
40 x 40
50 x 50
70 x 70
20 x 12 x 12
65 x 65 x 35
K-BL
10
12
14
16
20
25
30
40
50
60
70
20 x 20
30 x 30
40 x 40
50 x 50
60 x 60
70 x 70
5.5
6.5
10
12
14
16
20
30
40
50
60
70
20 x 20
30 x 30
40 x 40
50 x 50
70 x 70
20 x 12 x 12
65 x 65 x 35
K-YL
10
12
14
16
20
25
30
40
50
60
70
20 x 20
30 x 30
40 x 40
50 x 50
60 x 60
70 x 70
5.5
6.5
10
12
14
16
20
30
40
50
60
70
20 x 20
30 x 30
40 x 40
50 x 50
70 x 70
20 x 12 x 12
65 x 65 x 35