Fixtures For Thin Sections, Wafers, Crystals & Precision Parts
The Kemet Vacuum Jig is a precision workholding and sizing fixture for use with Kemet and other Flat Lapping Machines.
The Jig is suitable for accurately sizing Geological thin sections, wafers, crystals and any precision parts where parallelism and precision finish are required.
A range of face plates are available making the Jig suitable for holding all popular Glass Slide sizes. Special holding profiles can be supplied to accommodate wafers crystals and precision parts.
Any components and specimens can be held which can be located inside a diameter of 110mm and are under 6mm in thickness. Special versions for larger sizes are available on application. The basic Jig is supplied in a protective wooden case complete with rotary union and tubing suitable for a Vacuum Pump. The work locating faceplate is provided to suit the application.
Kemet Vacuum Jig
Height including Rotary Union - 250mm
Outside Diameter - 127mm
Net weight - 6.5 kg
| Vacuum Jigs (to suit slides) | Code |
| --- | --- |
| 4 x (76 x 26 mm) or 2 x (76 x 51 mm) | 362072A |
| 6 x (48 x 28 mm) | 362072D |
| Rotaid rotation assist post | 362895 |
| Setting stand | 361986 |
| Cast iron setting test block (127 mm diameter) | 361773 |
Custom Jig sizes available on request
Options include:
A setting jig complete with Dial indicator. This enables accurate size setting to a few microns.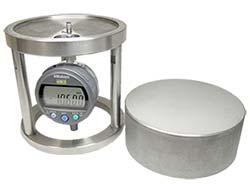 A stand to enable easy loading and unloading of the Jig - Code 362077.
Setting stand - Code 361986.
Setting test block - Code 361773.
Custom jigs available on request