Thin Section Machine - Precision Instrument For Mineralogy & Petrographic
Petrography is the science of investigating microstructure, composition and inter-component relationship of rocks, ceramics, minerals, man-made materials etc. The method of preparing petrographic samples for investigation is called "thin sectioning". Preparing thin sections requires highly precise instruments and know how. GEOFORM 102 is a bench-top instrument that will cut and grind down to 30 microns or less depending on the hardness of the material because; mineralogical specimens usually contain hard and soft phases.
GEOFORM 102 has two parts: Cutting and Grinding compartments. On the cutting module, the specimen is fixed on a holder with vacuum and re-sectioned up to a thickness of approx. 0,5mm. Water cooling during cutting avoids deformation. Can accommodate diamond and CBN cut-off discs up to 250 mm diameter.
Precision thin sectioning instrument for mineralogy.
Cutting and Grinding processes combined.
Specimen Holder with Vacuum for standard slides.
Built in micrometer with digital readout.
Water cooling
The Most Functional Cutting Compartment
Very large cutting compartment which is considerably larger than many precision cutters on the market.
High torque dual shaft motor provides both grinding and cutting capability for the same machine with extremely high precision.
Ability to mount up to Ø250 mm cut-off wheels.
Up to Ø90 mm cutting capacity.
Very large T-table with 204 x 196 mm size. Movable on Y-axis direction. Ability to mount clamping devices to cut large rocks safely.
Ability to cut samples that are attached to glass slides.
LED illumination inside the cutting chamber.
Powerful cooling pump provides efficient cooling when cutting the sample.
Completely enclosed cutting chamber with impact resistant transparent cover with magnetic safety switch.
The Most Functional Grinding Compartment
Increased glass slide thin sectioning capacity. Three pieces of glass slides can be grinded at the same time.
Optional glass slide holders for different glass slide dimensions.
Improved LED illumination for easy observation of sample.
Easier to access any area inside the grinding chamber to adjust vacuum valve, water nozzle and other features.
Safety
Equipped with easily accessible emergency stop button.
Both grinding and cutting compartments are totally enclosed with impact resistant transparent cover.
Equipped with magnetic safety switches for both grinding and cutting compartments. The magnetic safety switch does not allow the motor to be started unless transparent cover is closed. If transparent cover is opened during cutting or grinding, the motor immediately stops automatically.
Advanced Technology, Advanced Features
Equipped with 7" HMI touch screen with advanced software that allows extremely simple and professional operation with repeatable results.
Electronic micrometer for grinding section with 0.001 mm accuracy. Ability to interface HMI touch screen.
Frequency converter allows variable wheel speed, soft start/stop function and smooth operation for maximum precision.
New electronic vacuum sensor for more reliable vacuum control.
Variable Wheel Speed
The wheel speed can be adjusted between 500 to 2000 RPM for cutting and grinding wide range of materials. The wheel speed can be adjusted with 1-RPM increments from the touch screen.
Soft start and stop function eliminates the risk of breakage of glass slides.
Model
Geoform
Cutting Wheel Speed, (rpm)
500-2000
Grinding Stone Speed, (rpm)
500-2000
Cutting Wheel Dia., (mm)
250
Grinding Wheel Dia., (mm)
175
Recirculating Tank (Optional), (lt)
40
Glass Slide Dimensions
1" x 2"
1" x 3"
2" x 3"
Digital Micrometer
Yes
Motor Power, (HP)
550 W
Dimensions, WxDxH, (cm)
84x78x45
Weight, (kgs)
100
Slide Accessory Kits
For slide sizes
Code
Includes sample holder and set of flanges ø73 mm
76 x 26 mm *
345718
76 x 51 mm **
345719
Diamond Cup Wheels
Range of diamond cup grinding wheels for petrography, for use with the Geoform. Other sizes available on request.
| Size | Micron | Code |
| --- | --- | --- |
| Ø 175 mm | 65 | 345965 |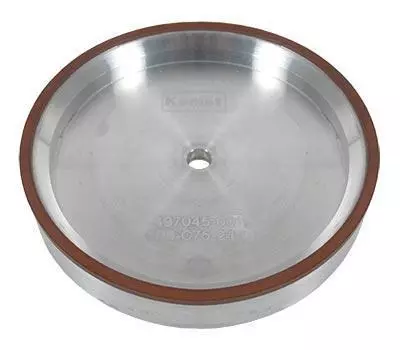 Custom manufactured grinding cups also available for alternative machines
GEOFORM Vacuum Holders (for Cutting compartment)
When ordering this machine, one of the below stands should be selected for cutting glass slides
Fixed Vacuum Stand for Mounting Vacuum Chucks
GR 1868
Movable X Axis Vacuum Stand for Mounting Vacuum Chucks
GR 1867
Vacuum Chuck for Cutting Section (To be mounted on GR 1868 or GR 1867)
GR 1870
1 pc of 27x46 mm
1 pc of 28x48 mm
1 pc of 1"x2"
GR 1871
1 pc of 30x45 mm
1 pc of 2"x2
1 pc of 1"x3"
1 pc of 1 1/2"x3"
1 pc of 2"x3"
GEOFORM Vacuum Holders (for Grinding compartment)
GR 1880
3 pcs. of 27x46 mm
3 pcs. of 28x48 mm
3 pcs. of 30x45 mm
GR 1881

1 pc of 1"x2"
1 pc of 2"x2
1 pc of 1"x3"
1 pc of 1 1/2"x3"
1 pc of 2"x3"