Petrographic, Geology Thin Sections & Material Testing Concrete - KemTech III
The KemTech III Thin Section Lapping Machine is able to accurately lap and polish thin sections mounted on glass slides down to 30 microns. Metered dosing of conventional and/or diamond abrasives is applied to the lapping plate using the integrated peristaltic dispenser. The Kemet Lift Off Disc system allows quick transitions between the lapping and polishing stages.
Features & Benefits:
2 driven rings as standard with the capacity for up to 3
Integrated abrasive tank with stirrer
Accurate peristaltic dispensing system for metered dosing
Cast Iron serrated LOD for Lapping
Aluminium LOD for Polishing
Variable Speed up to 70 rpm
Sealed, maintenance free, reduction gearbox
4.3" HMI Touchscreen
Water trap and filter
Stand-alone vacuum pump
Connectors to suit Kemet vacuum jigs, which are available as an optional extra
Product code: 363750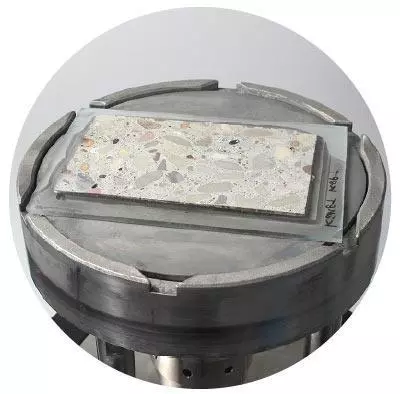 Thin section of concrete
Recommended Accessories & Consumables for the KemTech III
| Description | Code |
| --- | --- |
| Set of 3 Cast Iron Serrated Conditioning Rings | 360203 |
| Set of 3 Plastic Faced Conditioning Rings | 361521 |
| 380 mm Cast Iron Serrated Lift Off Plate | 362433 |
| 380 mm Aluminium Lift Off Disc | 361001 |
| 380 mm Aluminium Drive Plate | 361002 |
| 380 mm Thin Metal Disc (For use with magnetic system) | 342563 |
| 380 mm Magnetic Disc | 345773 |
Recommended Consumables
Code
Green Silicon Carbide Powder F600 1Kg
361513
380 mm PSU-M Chemo-Textile Cloth
341011
380 mm MRE Short Napped Final Polishing Pad
341715
Diamond Suspension (Water based mono
diamond)
9 Micron AQUAPOL-M
219442
6 Micron AQUAPOL-M
219448
3 Micron AQUAPOL-M
219440
1 Micron AQUAPOL-M
219450
KemTech IV - Ideal for Material Testing Concrete
The KemTech IV Thin Section Lapping Machine has a 20" lapping plate with driven rings as an option. It comes fully equipped and ready to use and is suitable for vacuum jigs of slides up to 152 x 102 mm. It can also lap components up to 191mm diameter (7.5") across the largest dimension. In certain circumstances larger components can be accommodated.
The machine is equipped with three conditioning rings running against freely rotating rollers mounted in fully adjustable yokes. Lap plate flatness can be easily controlled by conditioning ring position. The automatic slurry dispenser system is mounted in one corner of the machine. The lap plate rotates at 70rpm on fixed speed machines and is variable between 7 and 70rpm on the variable speed drive versions. The machine controls are housed in a separate box mounted on the front wall of the base. In all cases, the lapping operation is controlled by an adjustable timer.
Other Thin Section Equipment