Advanced Cutter for Minerals, Rocks and Geological Specimens
This equipment is designed for the sectioning of various materials, including rock, ceramics, minerals, glass, and concrete, among others. It features a Z-axis cutting wheel positioning and table-feed cutting system, which ensures precise and accurate cutting of materials. The manual positioning of the specimen in the X and Y axis allows for flexibility in cutting different shapes and sizes of specimens. The X-Y table bed and cross-feed table provide a stable base for cutting plane parallel sections, while the mechanical display of cutting thickness ensures consistency and uniformity in cutting thickness. The twin T-slotted clamping table made of stainless steel provides a secure grip on the specimen during cutting, while the bottom part of rugged alloy base casting ensures stability and durability of the equipment.
This cutting machine has a cutting capacity of up to 110/90 mm solid stock, making it suitable for a wide range of applications. It is compatible with diamond wheels up to ø300/250mm, and it is powered by a 6.4 HP compact cutting motor with an electronic brake system, which ensures safe and efficient cutting. The equipment features extraordinary access for easy handling with sliding door and side openings, while the interlocking safety switch for the sliding door provides added safety for the user. The machine can be connected directly to city water or a recirculating coolant tank, depending on the user's preference. This equipment is ready for operation and does not come with clamping devices or a recirculating cooling unit. However, these can be purchased separately if needed. In summary, this cutting machine is a reliable and efficient tool for sectioning a wide range of materials, and it is designed with safety and ease of use in mind.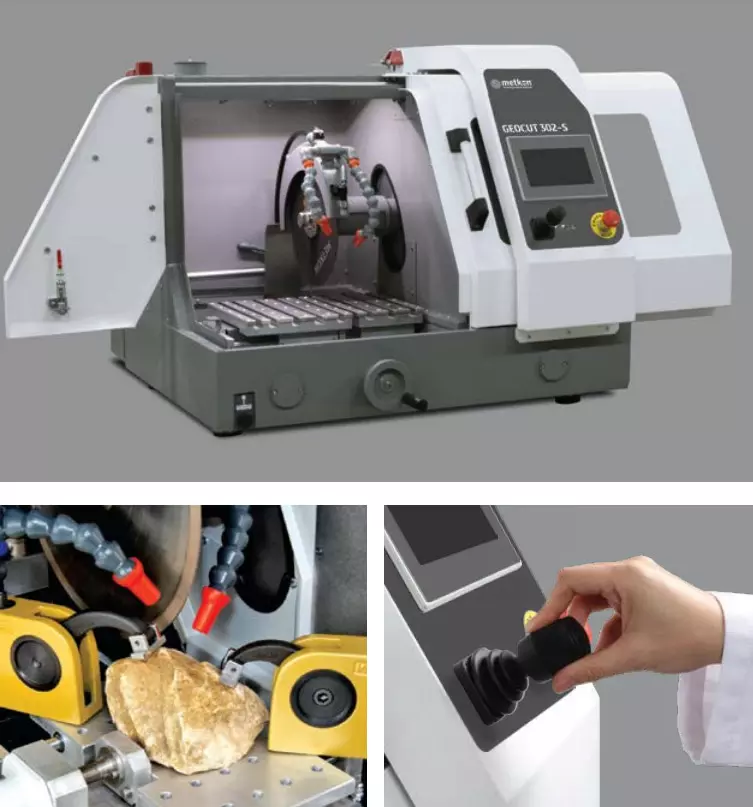 The GEOCUT 302-S is a specialised machine that is specifically designed to cut large and irregularly shaped petrographic specimens. This equipment is uniquely capable of combining different cutting techniques and methods to obtain superior cut surfaces for a broad range of heavy-duty cutting applications.
Featuring a robust and reliable design with low noise and emission levels, the GEOCUT 302-S is built to last. The machine's modern and sturdy design is powered by a powerful 4 kW cutting motor, ensuring fast and efficient cutting through the hardest and most complex materials with precise axis controls.
The GEOCUT 302-S boasts triple-axis cutting capability, including Z-axis Chop cutting, Y-axis Table-feed Cutting, and X-axis Parallel Cutting. With the ability to clamp specimens and approach them with the cut-off wheel, feed them into a rotating cut-off wheel using a T-slotted feed table, and perform parallel serial sectioning in the x-axis with movable x-table, this machine offers a wide range of cutting options.
This equipment comprises a cast aluminium base on which the motor and working space are provided in the form of two separate housings. A large, T-slotted feed table located in the cutter's generous work area can accommodate a variety of different clamping devices. The feed table provides a long travel depth, making the GEOCUT 302-S ideal for cutting long or deep samples in a single pass. A stainless small parts tray is supplied with the cutting table as standard to catch small specimens.
The GEOCUT 302-S is designed with safety as a top priority. The front sliding door and side cover can be completely opened for easy access and handling to all sides. Side access ports make it possible to make transverse sections on long specimens. A large window of Lexan and a sealed LED lamp in the cutting chamber allow precise observation of the cutting process at an optimum degree of safety.
The interlocking safety device of the GEOCUT 302-S does not allow the motor to be started unless the sliding door is closed. The sliding door cannot be opened before the cutting motor is stopped. The electronic brake system, which is a standard feature, brings the cutter to a quick full stop in seconds after it has been switched off. The easily accessed and operated E-stop button ensures immediate shut down. Overall, the GEOCUT 302-S is a top-of-the-line petrographic cutting machine that offers superior cutting capabilities with uncompromising safety standards.
| Model | GEOCUT 302-S |
| --- | --- |
| Max. Wheel Diameter | Ø300 mm |
| Max. Cutting Capacity, Ø | Ø110 mm |
| Max. Cutting Capacity, HxD | #70x200 mm |
| Z-Axis Travel, (mm) | 125 |
| Y-Axis Travel, (mm) | 220 |
| X-Axis Travel, (mm) | 95 |
| T-Table Dimension, (mm) | (395+95)x275 |
| T-Slot Dimension, (mm) | 12 mm |
| Cutting Motor Power (S1) | 4 kW |
| Wheel Speed, RPM | 2800 |
| Chop Cutting, Z- Axis | Manual |
| Table Feed Cutting, Y-Axis | Automatic |
| Parallel Cutting, X-Axis | Automatic |
| Size WxDxH, (cm) | 90x94x66.5 |
| Weight | 250 kgs |
Petrography & Geological Sample Preparation Catalogue
Accessories for Petrography
Quick Clamping Device for round petrographic specimens
GR 1811 for GEOCUT
Universal vise for large specimens, rocks, etc.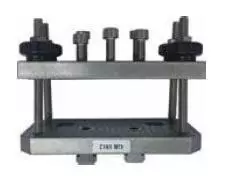 GR 1812 for GEOCUT
KKP 040 Vertical Clamping Device, with clamp shoe
15 08 for GEOCUT
Recirculating coolant tank, stainless steel, 55 lt. capacity, with pump, level indicator, hoses etc.
GR 1394-00 for GEOCUT
Fixture for mounting specimens to glass slides for thin-sectioning
45 61 for GEOFIX
Hot Plate for Geofix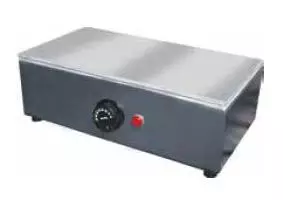 45 65
Cabinet for floor model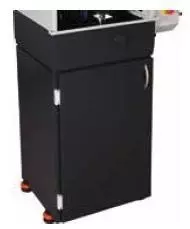 GR 0760 for GEOCUT