Kemet Lift Off Disc System
Suitable for multistage processing when workshop space is a premium or budget constraints only allow a single machine. Kemet Lapping Plates are available as Lift-Off Discs in 15" diameter. Discs are supplied mounted on an aluminium backing plate, which locates onto an aluminium drive plate by means of three pegs.
Lift Off Discs can be easily changed and are recommended for light duty work where general flatness and precision finish are required.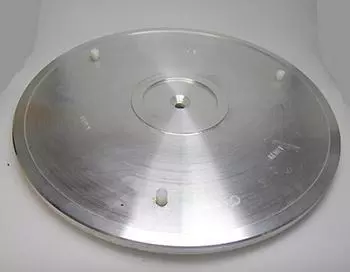 Aluminium drive plate which attaches to lapping machine
Kemet Copper Lift-Off Disc attaches to 3 pegs on aluminium drive plate
Kemet Copper Lift-Off Disc ready to be used
| Description | Kemet 15 |
| --- | --- |
| Aluminium Drive Plate | 361002 |
| Aluminium Lift Off Disc | 361001 |
| Kemet Iron Lift Off Disc | 351025 |
| Kemet Copper Lift Off Disc | 351121 |
| Kemet XP Lift Off Disc | 351226 |
| Kemet Tin Lift Off Disc | 351314 |
Polishing cloths can also be easily attached to Lift Off Disc System