Double Sided Lapping Machine - Twin Lap
The Kemet Twin Lap M machine is a small but versatile bench mounted machine ideally suited for small workshops and laboratories for double sided lapping (Twin Lap L is a floor standing machine). It comes fully equipped and ready to use and is suitable for lapping components up to 114mm diameter and up to 30mm thick. In certain circumstances larger components can be accommodated.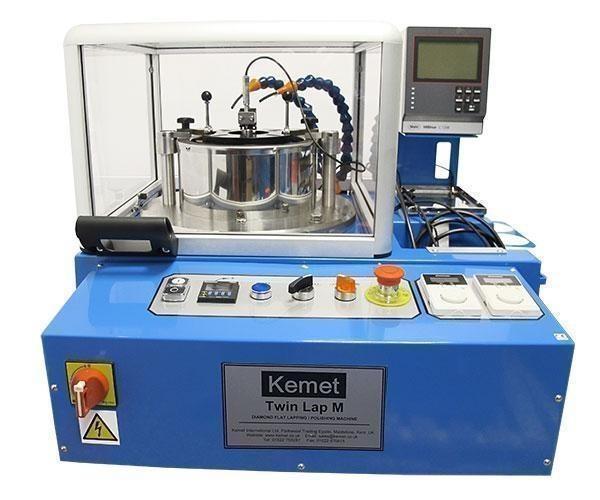 The machine is belt driven and built on a Aluminium extrusion base. Machine feet eliminate vibration transfer to and from the floor. This design gives the operator a shorter reach to the plate and easy access underneath for maintenance. The main lap plate can rotate both directions, and the work holder will automatically oscillate.
The machine will operate with a free abrasive compound such as silicon carbide, alumina or boron carbide, suspended in a oil or water based vehicle or a Diamond Compound. The compound is fed onto the lap plate from a free-standing system via a peristaltic pump.
As with all double sided lapping machines, we recommend that the lap plates are re-conditioned using conditioning gears on a regular basis. The machine can also be fitted with diamond dispensing equipment and special complementary lap plates. Automatic thickness control is also an option.
The machines come fully equipped and ready to run. The controls are housed in a single steel console attached to the base frame at a convenient working height. In all cases the lapping operation is controlled by a multi range adjustable timer or optional DTI mode.
TwinLap M for components <51 mm dia x 20mm thick
TwinLap L for components <114 mm dia x 30mm thick
TwinLap L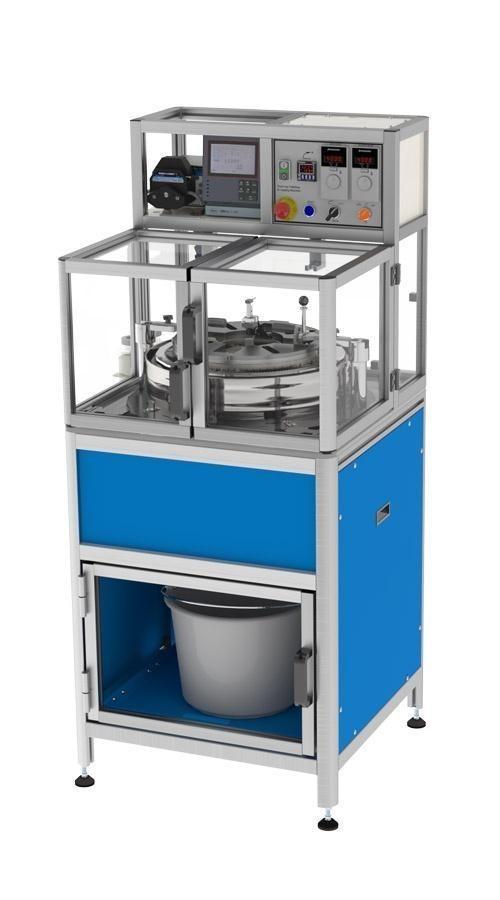 Technical Details
TwinLap M
TwinLap L
Height
630mm
1580mm
Depth
780mm
800mm
Width
770mm
770mm
Capacity
Ø51mm OD max component size, 20mm thick max. Thickness +/- 0.005mm. Flatness <0.0005mm
Ø114mm OD max component size, 30mm thick max. Thickness +/- 0.005mm. Flatness <0.0005mm
Maximum plate force
5kg
20kg
Outer ring gear speed
0 - 111 rpm 60W DC drive
0 - 26 rpm 300W DC drive
Inner sun gear speed
0 - 125 rpm 60W DC drive
0 - 64 rpm 300W DC drive
Aprox. Weight
80kg
300kg
Standard Tooling
One Cast iron lap plate Ø175mm, One set cast iron conditioning gears, One set top plate weights, One set work carriers
One Cast iron lap plate Ø370mm, One set cast iron conditioning gears, One set top plate weights, One set work carriers
Optional Tooling

Stainless steel backing plates
Polishing pads
Conditioning brushes

Optional Features

Electronic thickness control
Stainless steel 316 parts for corrosion resistant processing

Electrical supply
230V-single phase-50Hz or 110V-single phase-60Hz
Product code
359314