Chemical Mechanical Polishing Machine (CMP)
The KemCol 15 machine is ideal for Chemical Mechanical Polishing (CMP), and Cerium Oxide based polishing applications. The machine is based on the popular Kemet 15 lapping and polishing machine, but incorporates stainless steel elements in place of painted components for longer life, and contamination free polishing. It comes as standard with an integrated Kemet AkuDisp fully programmable peristaltic pump system, and either ceramic faced, or stainless steel conditioning rings. The Kemcol 15 system was initially developed as a super finishing process for the medical sector, but is also now used within the injection-moulding tool polishing industry, Sapphire polishing and many others. It is able to produce a scratch free mirror surface on Cobalt Chromes, Stainless Steels, Titanium and many other materials.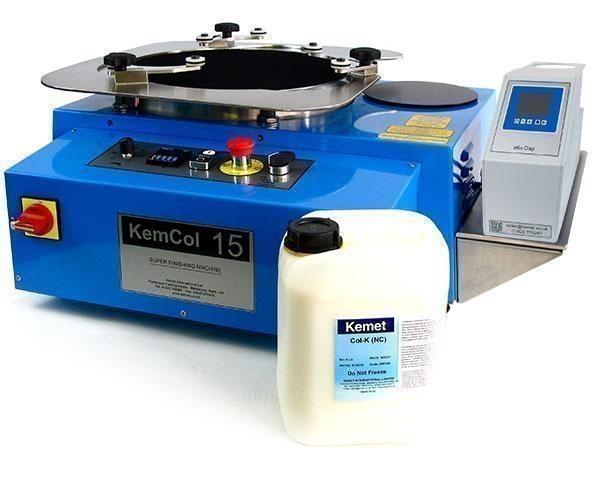 Special Features:
Stainless Steel worktable surrounding polishing pad
Polished Stainless Steel yokes for easier cleaning
Stainless Steel drive plate
Aluminium lift off disc system optional
Ceramic faced or stainless steel conditioning rings for contamination free polishing
AkuDisp fully programmable peristaltic pump unit fitted as standard
Suitable for Kemet magnetic polishing pad system for easy pad change
Recommended Accessories & Consumables for the KemCol 15
| Description | Code |
| --- | --- |
| Set of 3 Ceramic Faced Conditioning Rings | 361522 |
| Stainless Steel Plastic Faced Conditioning Rings | 362757 |
| 380 mm Stainless Steel Support Plate (For Polishing Pads) | 362033 |
| 380 mm Aluminium Lift Off Disc | 361001 |
| 380 mm Aluminium Drive Plate | 361002 |
| 380 mm Thin Metal Disc (For use with magnetic system) | 342563 |
| 380 mm Magnetic Disc | 345773 |
| Recommended Consumables | Code |
| --- | --- |
| 380 mm CHEM-H Polyurethane Polishing Pad | 341865 |
| 380 mm PSU-M Chemo-Textile Cloth for Cerium | 341011 |
| 380 mm MRE Short Napped Final Polishing Pad | 341715 |
CMP Process Case Study
Test Requirements:To produce best finish on Aluminium samples leaving no abrasive particles in the samples.
Component/Material: 4 off ½" x 2" Aluminium strips
Stage 1
Machine Type: Kemet 15 Lapping/Polishing machine
Lap Plate: Cast Iron
Abrasive Type/Grade: Kemox O-800S Aluminium oxide premixed slurry
Stage 2
Machine Type: KemCol 15 Machine
Lap Plate: MRE short nap cloth
Abrasive Type/Grade: Col-K (NC) CMP slurry
Process Breakdown
Stage
Plate/cloth type
Abrasive type/grade
Process time
Lap
Cast Iron
Kemox O-800S
5 minutes
Polish
MRE
COL-K (NC)
80 minutes
We have selected a CMP process for the final polishing as this uses a chemical action to polish the surface of the components in place of a conventional abrasive type polishing process. This means that there should not be any abrasive in the surface of the Aluminium.
The polishing time is 80 minutes using the set-up that we had available for the parts.
Resulting Ra from this process: Ra 1.647µinch
Before CMP Process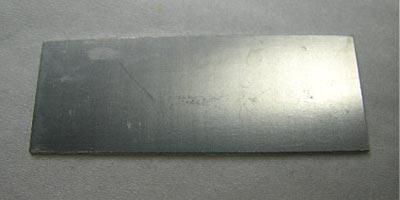 After CMP Process
Related Case Studies for Chemical Mechanical Polishing