Diamond Compound Stick
Kemet offer a new range of Water soluble, stick Diamond Compound manufactured with Monocrystalline or Polycrystalline Diamond Powder. Available in a 10g twistable container.
Allows easy application of Diamond Compound to Lapping and Polishing Plates, eliminating the need for spatulas or manual application. Available from 1/10 micron to 60 Micron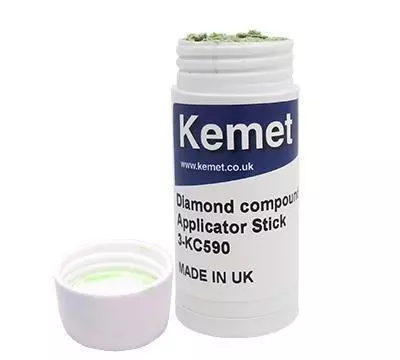 Diamond Powder is first checked with our equipment calibrated to National Physical Laboratory standards. This diamond powder must satisfy two important criteria – shape and grading. Our years of experience have established that multi-faceted sphere-cuboid shaped crystals produce the optimum cutting action of the diamond while maintaining a long life. The exceptionally close grading standards developed by us exceed many national standards and guarantee that Kemet Diamond Products are manufactured to the closest tolerances. Microscopic and computer analysis of the diamond powder ensures that it is exactly the correct grading and shape to maximise cutting performance.
| Micron | Size | Monocrystalline | Polycrystalline |
| --- | --- | --- | --- |
| 1/10 | 10g | 113187 | - |
| 1/4 | 10g | 113188 | 113200 |
| 1 | 10g | 113189 | 113201 |
| 3 | 10g | 113190 | 113202 |
| 6 | 10g | 113191 | 113203 |
| 8 | 10g | 113192 | 113204 |
| 14 | 10g | 113193 | 113205 |
| 25 | 10g | 113194 | - |
| 45 | 10g | 113195 | - |
| 60 | 10g | 113196 | - |