Ultrasonic Cleaners for Light-Industrial, Dental, Jewellery and much more
The K-Sonic Benchtop ultrasonic cleaners are available in 3 sizes the K-sonic 6, 12 & 30, catering for all your smaller component cleaning requirements. All tanks can be heated, starting at 30°C and increasing by 5 °C increments up to a maximum temperature of 80°C, an LED display light indicating when the set temperature is achieved. The K-sonic features a continuous ON mode, which enables continuous running for up to 6 hours, as well as individual 1-5 minutes, increasing to 5 minutes increments after up to a 30-minute cycle time. A small audio buzz alerts the operator when the cleaning cycle ends.
The tank, basket and housing are fabricated from stainless steel, the cleaner standing on four non-slip feet to ensure any pooling water is kept away from the electronics. A waste valve at the back is controlled by a side-mounted handle. The K-sonic benchtop cleaners have practical carry handles and the lid can be also used as a drip tray for loading and unloading.
Operating at 37Khz the switchable function modes ensure the hardware performance meets your process requirements, Eco mode is for cleaning sensitive materials. The ultrasonic cavitation operates with less power to minimise cavitation damage on soft materials whilst also reducing the noise level and mechanical impact on the tank, thus increasing the life of the tub. Dynamic mode optimises the sound filed distribution ensuring peak performance for stubborn hard-to-remove contamination.
The new K-Sonic basket design features a punched pattern on the base and side walls enabling the operator to set up a hoist of different fixturing options by using the available accessory ensuring a solution to challenging fixture requirements.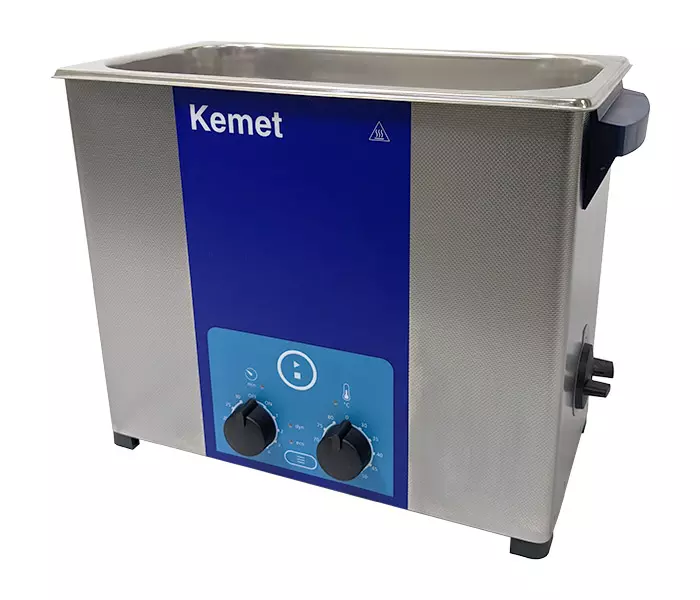 K-Sonic 6 Ultrasonic Cleaner
Technical information
K-Sonic 6
K-Sonic 12
K-Sonic 30
Tank total volume (l)
5.9
12.9
27.5
Recommended tank operating capacity (l)
4.3
10
22
Ultrasonic power effective (W)
150
200
300
Heating power (W)
400
800
1200
Unit ext. dim. W/D/H (mm)
370 x 225 x 280
380 x 315 x 330
575 x 375 x 330
Tank int. dim. W/D/H (mm)
280 x 130 x 149
275 x 215 x 199
475 x 270 x 199
Basket int. dim. W/D/H (mm)
255 x 105 x 95
250 x 195 x 135
450 x 255 x 135
Weight (kg)
5.1
7.5
11.0
Voltage
230V-single phase-50Hz or 110V-single phase-60Hz
Product Code
359482K
359484K
359486K
K-Sonic 30 Ultrasonic Cleaner
K-Sonic 12 Ultrasonic Cleaner
Accessories for the K-Sonic Ultrasonic Cleaners
Accessories
Glass Beaker (Can be placed directly in a cleaning basket or in combination with an insert cover be hung in the ultrasonic tank)
Insert cover to be placed on the ultrasonic cleaning device
Insert cover for hanging in the ultrasonic bath
600 ml
150 ml (without plastic cover)
Suitable for
Placed in any basket/tank, E15137, 1110262
Placed in any basket/tank, 1110262
K-Sonic 30, E15136
K-Sonic 30, E15136, 1111834
Product Code
E15136
1111834
E15137
1110262
Dimensions
External (mm)
(Dia / H / D)
(W / D / H)
(Glass with cover) 100 / 155 / 110
80 / 85 / 95
270 / 170 / 15
285 / 110 / 35
Internal (mm)
( Dia / H) 75 / 145
( Dia / H) 55 / 60
N/A
N/A
Cover hole Dia (mm)
N/A
N/A
95
65 / 90
External, rubber ring Dia (mm)
100
70
100
70 / 95
Basket Attachments for the K-Sonic Ultrasonic Cleaners
The punched pattern on the baskets base and side walls, complement an assortment of versatile pins. The perforations are positioned to enable optimum cavitation access to the items being cleaned. Items ranging from large industrial components to delicate laboratory glassware, tiny watch parts, and intricate pieces of jewellery, can be individually secured. Using this smart arrangement increases the potential number of components that can be cleaned in one load of the basket and improve productivity levels through the efficient use of water, cleaning agents. Energy and time.
Basket Attachment
Product Code
359030
359031
359032
359033
359034
359035
359036
359037
Ext. dimension Dia x H (mm)
25 x 55
25 x 30
85 x 65
25 x 55
40 x 75
55 x 45
75 x 45
30 x 35
50 x 40
int. dimension Dia x H (mm)
5 x 40
4 x 15
50 x 35
15 x 40
30 x 65
0.35 x 25
25 x 25
20 x 20
40 x 25
Outer overlay Dia(mm)
-
-
-
-
-
15
40
-
-
Pcs.
10
10
10
10
10
10
10
10
10
Material
Plastic
K-Sonic Ultrasonic Cleaner basket
Basket Attachment
PARTITION
For vertical division of the modular basket
SECOND LEVEL
For horizontal division of the modular basket
SIDE & FLOOR CHAMBER
For holding various instruments, containers and workpieces
HOOK
SHAFT HOLDER
Positioning aid
Product Code
359038
359039
359040
359041
359042
359043
359044
359045
359046
Dimensions WxDxH (mm)
105 x 50 x 1
105 x 90 x 1
200 x 60 x 1
255 x 130 x 1
255 x 105 x 1
250 x 195 x 1
105 x 10 x 35
150 x 10 x 45
105 x 3 x 15 (Holder shaft)
110 x 55 x 25 (Holder hooks)
For K-Sonic models
6, 12, 30
6, 12, 30
12
30
6
12, 30
6, 12, 30
6, 12, 30
6, 12, 30
Pcs.
2
2
2
2
1
1
10
5
1 holder shaft, 1 holder hook
Silicone holder per set
10
10
10
10
5
10
-
-
5
Material
Stainless steel
Stainless steel
Silicone
Plastic-coated
Stainless steel