Kemet Master the Art of Mirror Polishing Carbon
There have been many changes to the composition of carbon components over the last 25 years with different binders, fillers and impregnation agents that have a big impact on how the materials react when being polished. It's long been common to impregnate the carbon in order to reduce porosity, but with new types of assemblies that require more complex carbon composites, the use of antinomy, copper, and other materials is much more common.
These mixtures of materials create their own difficulties when trying to achieve a mirror polish, and as a primary supplier to the carbon finishing industry, these difficulties have had to be researched and overcome by Kemet International.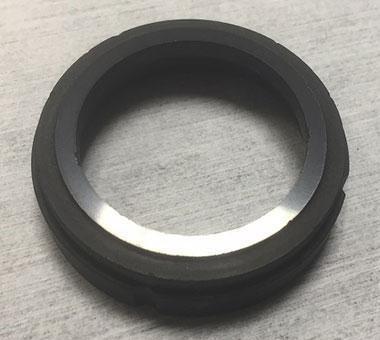 Kemet have a variety of polishing processes for all type of carbon composites, this is an ideal process for finishing smaller, low volume components, but it does require preparation of the cast iron plate, and in effect, a burnishing process that polishes the carbon. For this process to be effective, the make-up of the slurry is critical. If the slurry is too wet or too dry the carbon will not polish.
Alternatively, Kemet have their Kemet Copper SP2 material. This is used with 3 or 6 micron diamond slurry depending on the size of machine and the weight of the components. This is an easier process to maintain, and will give repeatable results every time, without the need to pre-prepare the lapping plate, and with the benefit of being able to process multiple parts in a single run. Since the Kemet composite is a softer resin based material, the diamond particles embed into the Kemet material meaning it will not embed into the carbon.
Kemet have also developed a portable kit for lapping of carbon seals, consisting of a lapped aluminium substrate and 5 superfine abrasive discs which allow the seals to be lapped without the need for any added loose abrasive.
Kemet offer free of charge process development and component trials so if you have a need to polish carbon or any carbon composites contact us.