Lapping & Polishing Stainless Steel - Case Study
Test Requirements: To produce a mirror polish on Stainless Steel components using as clean a process as possible, and creating a flatness of <0.01mm
Component/Material: 30 Stainless Steel samples
Machine Type: Kemet 24 lapping machine
Stage 1: We have used a Kemet Copper / diamond slurry combination as the lapping stage because this will be a much cleaner method than using conventional abrasives and oil. This produces an even reflective finish flat to 1 LB (0.00029mm).
Stage 2: The silk polishing stage removes the trace scratches form stage 1 and results in a mirror polish. As a pad is used for the stage, some roll-off is created at the edges of the component meaning the final flatness is around 3 LB (0.001mm). This is still well within the 0.01mm target flatness.
Before Lapping Stainless Steel
After Lapping Stainless Steel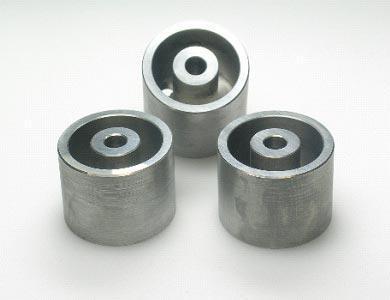 After Polishing Stainless Steel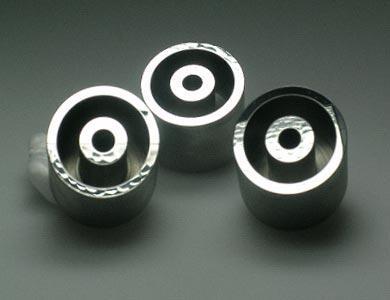 Test Requirements: To lap small stainless steel samples, demonstrating Kemet composite and diamond results. Target Flatness : 0.005mm Target Surface Finish: 0.8µm
Component/Material: Stainless Steel components.
These parts were processed on a Kemet 15 lapping machine fitted with a Kemet Copper lapping plate. A hard faced hand weight applied 4Kgs of additional pressure and maintained the parallelism requested of 0.010mm.
Process Breakdown
Stage
Plate/cloth type
Abrasive type/grade
Process time
Lap
Kemet Copper
Type K Standard Diamond slurry
3 minutes per side
Stainless Steel before lapping
Stainless Steel after lapping
Test Requirements: To produce reflective finish on Stainless Steel Mechanical Seal.
Component/Material: 65mm Stainless Steel Seal pre-lapped.
This process has produced: Surface finish: Ra 0.025um Flatness: 1 Light Band (0.00029mm)
Kemet XP can be used on ceramic, carbon, tungsten carbide and stellite
Process Breakdown
Stage
Plate/cloth type
Abrasive type/grade
Process time
1 Lap
Kemet XP
Type K Standard Diamond slurry
10 minutes
After lapping Stainless Steel