Lapping & Polishing Graphite - Case Study
Test Requirements: Lap out damage to graphite seals
Component/Material: Graphite seals
Machine Type: Kemet 15" diamond lapping machine
Lap Plate: Kemet Iron
When the graphite seals were lapped on a Kemet Iron with 14 Micron Type K standard, Ra of 0.088 µm was achieved (Flatness better than 1 light band). The damage was lapped out. The graphite seals were then polished on a Kemet Iron with 3 Micron Type K standard, Ra of 0.0693 µm was achieved. If the graphite seals are only polished on 3 Micron Type K standard, it took 40 minutes to lap out the damage.
Test Requirements: To lap and polish Cast Iron & Graphite mechanical seals, in a 1 stage process.
Component/Material: Cast Iron & Graphite seals
Machine Type: Kemet 15" diamond lapping/polishing machine
When processing the graphite seals, after 2 minutes turn off diamond, this is so the graphite burnishes for the final minute, producing a more reflective finish. Ra after polishing step: 0.263 µm
Process Breakdown
Component
Plate/cloth type
Abrasive type/grade
Process time
Cast iron mechanical seal
Kemet Copper
Kemet Liquid diamond Type K
10 minutes
Graphite mechanical seal
3 minutes
After Polishing Graphite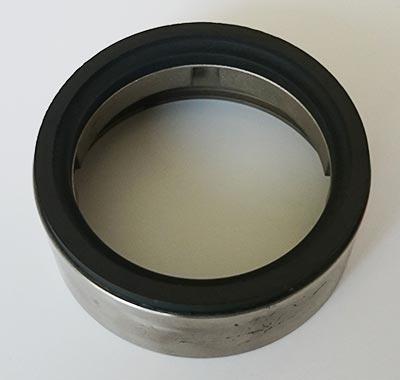 Cleaning Graphite - Case Study
Customers Criteria: Free from all contamination
Component: Packing tooling
Material: Poco EDM1 Graphite
Contamination prior to cleaning: Dust, Dielectric fluid
% Satisfactorily Cleaned: 100%.
Process for cleaning Graphite
The basket of the wash tank was layered with a rubber mesh so as not to damage the part .The part was then placed into the wash tank and set for a cycle of 5 minutes. After the wash cycle the part was rinsed in deionized water for 3 minutes, rinsing is a very important stage as it neutralizes any left on cleaning agent which could etch or stain the part. Finally the part was placed into a versa hot air dryer unit set at 65°C for 10 minutes.