Lapping & Polishing Ceramic - Case Studies
Aluminium Oxide and Silicon Carbide ceramic components, particularly seals, require diamond abrasive and preferably composite plate technology to generate the best results. Kemet have worked with some of the largest manufacturers of ceramic parts, and OEM's who need to finish ceramic components to high flatness and surface finish specifications for many years. This means most requirements can be dealt with quickly and economically as we always have machines set for ceramic processing.
The use of Kemet composite lapping plates also guarantees your ceramic parts will be extremely clean. This is particularly important when processing white alumina based ceramics where some alternative processes can result in embedded black contamination from the lapping/polishing process.
Test Requirements: To lap silver plated ceramic parts to drawing removing silver coating.
Component/Material: Silver coated piezo rings
Machine Type: Kemet 15 lapping machine
The parts were received with a parallel figure of 0.009 µm. We have been able to reduce this to 0.004 µm during the lapping and polishing stages.
Lapping Process breakdown for Ceramic
Stage
Plate/cloth type
Abrasive type/grade
Process time
1 Lap
Kemet Copper
Liquid diamond 6 micron type K standard
10 minutes per face
2 Polish
ASFL polishing pad
Liquid diamond 3 micron type K standard
5 minutes per face
Before Lapping Ceramic
After Lapping Ceramic
Test Requirements: To lap and polish Ceramic disc to the best possible surface finish and flatness, using a non metallic process.
Component/Material: Ceramic disc
Machine Type: Kemet 36 lapping machine
Process breakdown
Stage
Plate/cloth type
Abrasive type/grade
Process time
1 Lap
PR3 Lapping Plate
45 type k std Diamond slurry
20 minutes
2 Polish
ASFL polishing pad
3 KDS1454 Diamond slurry
15 minutes
Stage 1 Lapping Ceramic
Stage 2 Polishing Ceramic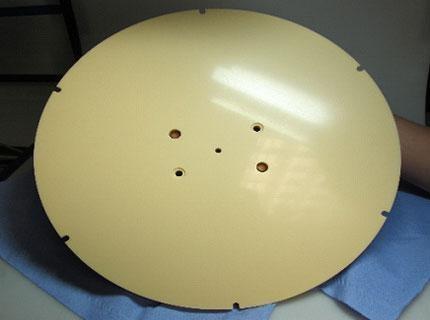 Test Requirements: To lap and mirror polish 2 ceramic parts
Component/Material: Ceramic
Stage 1. The stock removal rate to clean up was 1 micron per minute. Stage 2. ASFL polish removal was approx 0.3 microns per minute. We used Cast Iron conditioning rings on stage 1, and plastic faced conditioning rings on stage 2. We needed to remove approx 25µm total to lap and polish the surface, we achieved an Ra of 0.003µm. Kemet recommend ultrasonic cleaning of the parts in production to eliminate the need for manual cleaning with tissues.
Process Breakdown
Stage
Plate/cloth type
Abrasive type/grade
Process time
Lap
Kemet Iron
Kemet Liquid diamond 6 micron type K standard
20 minutes
Polish
ASFL Polishing Pad
Kemet Liquid diamond 3 micron type K standard
20 minutes
Before Lapping Ceramic
After Polishing Ceramic