Kemet Annular Groove Lapping Systems
Kemet's annular groove lapping systems can generate shoulder flatness of better than 0.001mm and a surface finish of Ra 0.05µm with ease. An integral part of hydraulic and fuel system manufacturing and MRO (maintenance, repair and operations) for many years, most systems are based around the popular Kemet 15 bench top lapping machine, but other sizes are available. The process uses bespoke Kemet Composite Lapping Plates designed specifically for individual components. The composite plates are manufactured from a homogeneous mixture of synthetic resins, metal particles and other materials, and are produced in a variety of hardness values so that even the softest material can be lapped safely with diamond particles. Mounted on a cast iron backing plate for maximum stability, they are perfect for general and heavy-duty work where high precision flatness and surface finish are required. Used in combination with Kemet Liquid Diamond, even the most exacting tolerances can be easily achieved.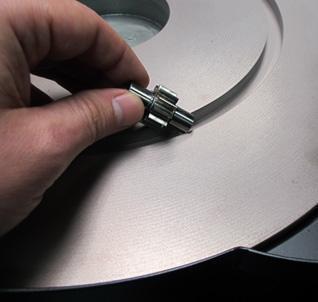 Kemet's Annular Groove Lapping Systems are a must have for any MRO department and are available for any shoulder lapping application: Gear faces, Aircraft hydraulic system shoulder seals and Pressure relief valve caps to name but a few. Larger systems based on the Kemet 36 have also been commissioned specifically for the medical industry where precision and process stability are essential.
If you need help or advice with a shoulder lapping application, contact Kemet International, the process specialists.