Gear Lapping
Gear faces and aerospace fuel and hydraulic systems will typically need very good flatness and surface finish on faces that have integral shafts. The shafts make it impossible to present the faces needing lapping to a normal lapping plate. Kemet have developed automated systems to overcome this challenge, replacing hand finishing techniques that are both time consuming and variable. Kemet are able to process these types of parts in our sub contract facility generating flatness of less than 0.0005mm. (0.5 micron). If you are looking for this type of service, simply send a drawing of the part needing processing along with quantities, and we will calculate exactly what is needed and issue a quotation which will include a bespoke annular groove plate and an optical flat specifically for your part.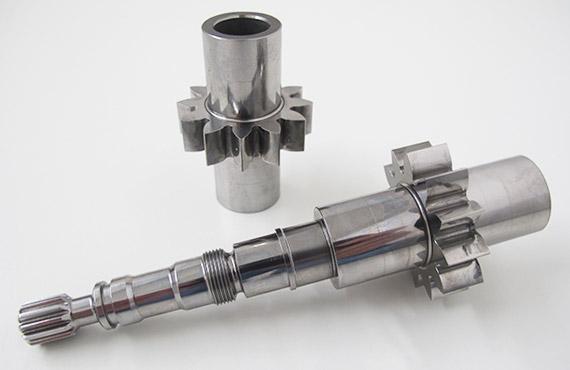 Test Requirements: To Lap to drawing
Component/Material: Batches of 50 bronze gears
Machine Type: Kemet 36 lapping machine
For the first stage you need to place 8 Gears in the Conditioning ring and lap them with no additional pressure on the cast iron lapping plate for 5 minutes on each side. Doing this takes off the high spots so helps keep the part within the parallelism spec. Next you need to clean of and measure all of the parts so you can calculate the correct process time for the final sizing stage.
Once you have worked out the time required for this secondary stage, you will need to place 5 Gears in a fixture and lap them under a 20KG weight (Standard 36" machine weight) for the calculated time. For example, 2 minutes and 30 seconds on each side. After this is done you need to remove the parts from the nest then clean them in an ultrasonic cleaner and rinse them in deionised water to remove all dirt and stains. After the parts are clean and dry you must measure all parts to make sure they are all in the required size and parallelism.
Gear Lapping Process
Stage
Plate/cloth type
Abrasive type/grade
Process time
1 - Removal of high spots
Cast Iron
Kemox 0-800 s 14µ
5 minutes
2 - Sizing
Cast Iron
Kemox 0-800 s 14µ
2 minutes 30 seconds