Gate Valve Lapping
Gate Valves or Sluice Valves are widely used within the oil and gas sectors to control the flow of fluids and gases. They are rarely used to regulate the flow, more commonly, they are a simple but effective way of either shutting off flow, or fully opening to allow maximum unobstructed flow.
Gate valves contain a tungsten carbide coated slab, and this will have a hole in it to allow the flow of fluid or gas when open, and also a solid area which blocks the opening either side of the slab when closed. The slab moves up and down to open and close, with tungsten carbide coated seats within the body of the valve to maintain a seal that stops the fluid or gas leaking into the body of the valve.
As the seats and slab are both hard faced with tungsten carbide, it is critical that they are perfectly flat. Two perfectly flat surfaces will form a seal that will not leak, but producing the flatness required on tungsten carbide can be difficult, particularly as the specifications become tighter and tighter as valves are designed to handle higher and higher pressures.
Kemet have been supplying gate lapping expertise for over 40 years. This has allowed us to identify the ideal combination of Kemet composite lapping plate and diamond slurry that when fitted to our Kemet 48 and Kemet 56 diamond lapping machines give a repeatable and cost effective solution to either new gate valve manufacture, or gate valve refurbishment.
The Kemet process typically generates a flatness of less than 2 sodium light-bands (0.0006mm) with a surface finish from Ra 0.1 µm down to a mirror finish (Ra better than 0.01 µm) if needed.
Kemet also offer an in-house gate lapping service for clients who do not have the volumes to justify their own lapping services and we can currently lap 5" gates to a flatness better than 2 sodium light bands
Lapping & Polishing Seat & Gate Valve - Case Study
Test Requirements: To lap a 2" Tungsten carbide coated gate and seat to 2 Light Band flatness and Ra < 0.07µm
Component/Material: Gate Valve & Seat
The gate and seat were both supplied in a ground condition. A work-holder was made so that the gate would rotate within the conditioning ring when lapping. No additional pressure was added to the gate and using the recommended process, a stock removal rate of 0.5µm / minute was achieved. Within 20 minutes we had removed on average 10 microns. This was enough to generate a flatness of 2 light bands and a surface finish of 0.0218 µm. A faster stock removal rate could be achieved using Kemet liquid diamond Type O 25 Micron with a finished Ra still within the 0.07µm target. The seat was lapped using a non slip rubber faced 4.5Kg hand weight. This resulted in a slightly higher stock removal rate of 0.85 µm / minute and a surface finish of 0.025µm
Lapping Process breakdown for Gate Valve & Seat
Part
Plate type
Abrasive type/grade
Process time
Gate
Kemet Iron
14µ Type O slurry
20 minutes per face*
Seat
Kemet Iron
14µ Type O slurry
10 minutes
Before Lapping Gate Valve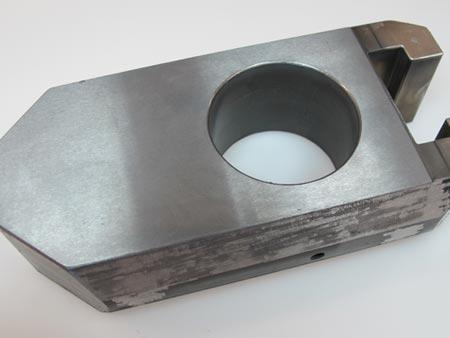 After Lapping Gate Valve