Ultrasonic Cleaning Aerospace
Component Cleaning and FPI Solutions for Aerospace Manufacturing and MRO
Solutions for demanding cleaning and Liquid Penetrant Testing both for manufacturing and MRO industries. Thanks to the smart technical solutions, equipment reliability and customer-oriented technical support, Kemet are a trusted partner among the world's leading aviation companies.
Seamless and streamlined cleaning and FPI
One experienced, responsible partner
Automatic processing with data logging
Traceability of processed batches
Minimized risk of human error, less reprocessing
Superior cleaning thanks to ultrasonics
Automatic vision systems available
Water consumption minimized with smart recycling
Cost savings thanks to reduced operator involvement
Equipment is built to last: "They last forever" as one customer put it
Innovative encrypted remote support
Technical support for long term partnership
Component cleanliness has a significant effect in product quality, efficiency and bottom line results. Kemet's aim is to provide intelligent and safe parts cleaning solutions with short repayment periods and low production costs. Ultrasonic cleaning has proved to be the most efficient cleaning method in industrial parts cleaning.
Cleaning Applications: Jet engine parts, Machined airplane fuselage parts, Engine bearings, Wheel hubs, Wheel bearings and other small parts, Brake parts.
Ultrasonic Cleaning Aerospace - Case Study
Customers Criteria: Remove dirt and grease.
Component: Aerospace / Aircraft Hydraulic Pipe Line
Material: Stainless steel & plastic conduit pipe
Contamination prior to cleaning: General dirt and grease. Dried de-icing fluid, Carbon dust.
Total number off: 4 batches
Number off per run: 1 initially, then processed 5 plus per cycle.
Process for cleaning Aerospace / Aircraft parts (braided pipe)
Initially, one pipe was processed on its own for a cycle of 20 minutes. Lifting the basket out and dunking after 10 minutes, just to move any settled debris. After the full 20 minute cycle is complete, move the parts into the Kemet MI 80 rinse tank and manually dunk several time to ensure a thorough clean.
After this initial test, multiple parts were cleaned in the same process all with excellent results.
Kemet suggest the use of two MI 80s with a filtration system if you have a large amount of pipe to clean. This would prolong the life of the fluid inside the tank due to the large amount of debris.
% Satisfactorily Cleaned: 100%.
Etched effect: None
Before cleaning Aerospace part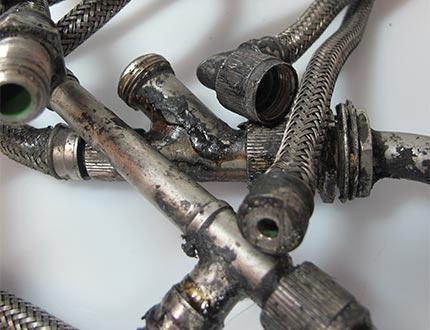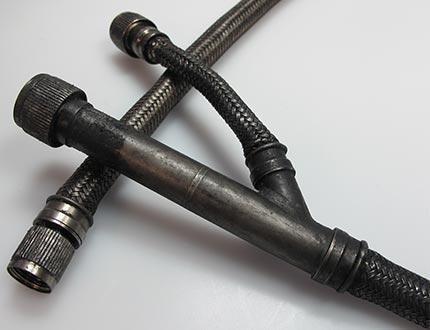 After cleaning Aerospace part