Circuit Board & PCB Cleaning - Case Study
Customers Criteria: To remove contamination.
Component: PCB Part
Material: Copper, Tin, Nickel & Gold
Contamination prior to cleaning: Carbon & Copper dendrites
Total number off: 3
Number off per run: 1
Process for cleaning PCB's:
It is recommended not to clean Circuit Boards (PCB) manually with a cleaning brush as this can damage the components, the best solution is to use an ultrasonic cleaner following this process. A wash cycle time of 60 minutes is required to fully clean the PCB, dunking after 30 minutes is recommended to help move debris sitting on the part. Rinsing is an important stage as to insure the cleaning agent dose not etch or damage the PCB. Recommended rinse cycle of 5 minutes. A drying cycle time of 10 minutes at 65°C
% Satisfactorily Cleaned: 100%.
Etched effect: None
Before circuit board is cleaned
After circuit board is cleaned
Cleaning Circuit Boards
Contamination: Water damage, flux residue adhesives and corrosion
Tank 1 was filled with tap water and allowed to reach the required temperature whilst degassing. The parts were placed inside the basket lying face down horizontally and cleaned for a cycle time of 5 minutes. After 5 minutes the parts were turned over and cleaned for another 5 minutes for even results on both faces. The transducers on the Kemet 30 are on the base, Ideally the board would be positioned vertically in the basket allowing the cavitation to evenly clean each face. The parts were then rinsed in a tap water tank for 1 minute. Rinsing is important as the detergent residue must be removed to avoid any marks or staining. The minerals in tap water aid in the rinsing process. Finally, the parts were rinsed in a DI water tank. This is to ensure a spot-free finish. Minerals from the tap water rinse can cause staining if not removed. The parts were then dried the versa hot air dryer for 10 minutes.
Before circuit board is cleaned
Before removing water damage from circuit board
After circuit board is cleaned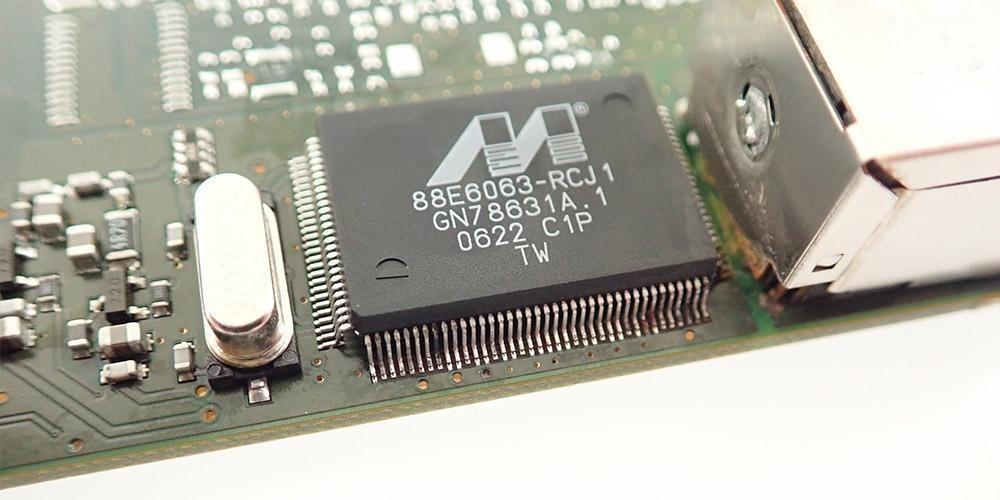 After removing water damage from circuit board