How to Clean Laboratory Glassware Quickly
Customers Criteria: Free from all contamination
Material: Borosilicate glass
Component: 22 litre four neck flask
Contamination prior to cleaning: Burnt monomer material
Total time: 35 minutes
Process for cleaning laboratory flask:
Ultrasonic wash tank one was diluted with a 5% concentration of Galvex 17.30N, the fluid is especially formulated for the ultrasonic removal of polishing/grinding compounds and oils from glass.
Once the tank was at the required temperature of 70°C the flask was placed in the basket, due to the geometry of the part the air had to be forced out to fully submerge. The flask was cleaned with the ultrasonics for a cycle time of ten minutes. The flask was lifted out with the necks facing down to release the trapped fluid. Upon inspection some light residue remained, the flask was cleaned for a further 10 minutes.
The flask was then rinsed in heated tap water, tap water is used to rinse off any residue and hydrocarbons left on the flask from the Galvex 17.30N. As before the air was removed from the flask then submerged in the tank. No ultrasonics were used on this rinsing stage, the flask was rinsed for two minutes.
The flask was then rinsed in deionised water with ultrasonics for three minutes to ensure a spot free finish. Finally the flask was placed standing on the necks to flush out any fluid trapped inside in the hot air dryer, the flask was dried for 10 minutes at 70°C.
Note: One of the main features of Galvex 17.30N is its long bath life, based on these results you should expect to clean multiple flasks without having to change the bath. We also can offer a range of fluid handling options to help achieve the required cleanliness level and cut operating costs.
Before cleaning four neck flask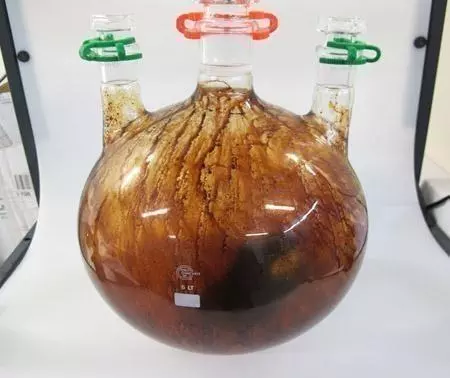 After cleaning flask (35 minutes later)