Cleaning Carburetors - Case Study
Customers Criteria: To remove general contamination of Carburetors.
Component: Aluminium Carburetors
Material: Aluminium
Contamination prior to cleaning: Burnt on soot, oil & Carbon
Total number off: 4
Number off per run: 1
| Ultrasonic Cleaner | Cleaning Agent | Temperature(s) | Concentration |
| --- | --- | --- | --- |
| Kemet MI80 Ultrasonic Cleaner | Rodastel 30 | 60°C | 10% |
| Kemet MI80 Ultrasonic Cleaner | Deionised Water | 40°C | 100% |
Process for cleaning aluminium Carburetors:
Each part was individually processed in the ultrasonic wash tank using Roadastel 30 (Which is a low acidic, not classed as hazardous). After a cycle of 10 minutes the part is removed and placed into the rinse tank to neutralise. All parts where dried manually.
% Satisfactorily Cleaned: 90%.
Etched effect: None
Before cleaning aluminum carburetor
After cleaning aluminum carburetor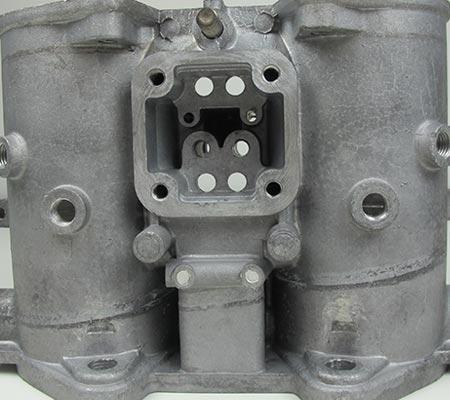 Cleaning Carb Housing - Case Study
Customers Criteria: To remove fuel residue and corrosion. To brighten the base metal.
Component: Carb housing
Material: Aluminium
Contamination prior to cleaning: Fuel residue, corrosion, general dirt
Total number off: 1
Number off per run: 1
Process for cleaning carb housing:
The carb housing was placed into the Kemet 12 and had a cycle of 20 minutes. Immediately after, was removed and placed into the MI 40 rinse tank manually dunked several times to ensure a through clean. The carb was manually dried with an air supply. This process was repeated for each cleaning fluid.
% Satisfactorily Cleaned: 80%.
Etched effect: None
Results: The Helit plus had removed all the surface dirt/muck and had brought a shine back to the carb. The corrosion inside the housing is still there. The Galvex 17:30 has dulled some of the shine produced by the Helit, but it has removed some of the corrosion.
Before cleaning carb housing
After cleaning carb housing