Cleaning Car Parts - Case Study
Customers Criteria: Remove all carbon deposits and brighten up the aluminium
Component: Automotive Parts
Material: Aluminium
Contamination prior to cleaning: Carbon staining, corrosion
Total number off: 1
Number off per run: 1
| Ultrasonic Cleaner | Cleaning Agent | Temperature(s) | Concentration |
| --- | --- | --- | --- |
| Kemet MI80 Ultrasonic Cleaner | Roadastel 30 | 60°C | 10% |
| Kemet MI80 Ultrasonic Cleaner | De-ionised water | 30°C | 100% |
Process for cleaning car parts:
This part was processed standing up In the MI unit with a cycle time of 20 minutes. After this cycle the part was dunked in the deionised water tank several times to neutralise the Rodastel 30. Some heavy stains are still present but should be easily removed with a longer cycle time.
% Satisfactorily Cleaned: 90%.
Etched effect: None
Before cleaning car parts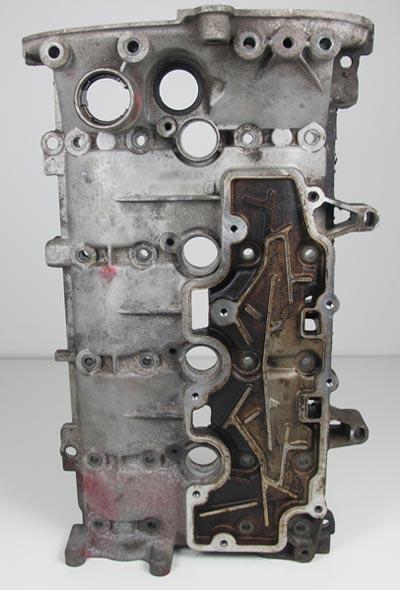 After cleaning car parts
Aluminium Automotive Component Cleaned
Customers Criteria: Free from all contamination
Component: Automotive component
Material: Aluminium
Contamination prior to cleaning: Carbon staining, corrosion
Process for cleaning automotive components
Stage 1 – Ultrasonic wash: Decospray HT 13 is a strong alkaline cleaner with very high degreasing power suitable for aluminium. A 3% concentration was added to a tank of clean water and allowed to reach the required temperature whilst degassing. The part was suspended in the basket using a 6mm rod. The part had a total treatment time of 10 minutes in the Decospray HT13, the basket dunking feature was used for the length of the treatment.
Stage 2 – Rise: The parts were rinsed using the air bubble agitation feature for 2 minutes.
Stage 3 – Ultrasonic wash: Rodastel 30 was used due to its hydrophilic properties. Rodastel 30 cleanses and conditions creating a hydrophilic surface. Cleaning occurs because water on the surface is able to spread out to a great degree (extremely low water contact angle) to get between any fouling debris and the surface to wash away the debris. The part had a total cleaning time of 5 minutes in the Rodastel 30 with the basket dunking feature on.
Stage 4 – Hot air dry: The part was dried in the hot air dryer set to 70°C for 5 minutes. Results: More mechanical action is required to remove the lapping residue from the cavities. A pre wash using a spray cleaner should be considered.
Before cleaning automotive component
After cleaning automotive component