Ultrasonic Cleaning Steel - Case Study
Customers Criteria: Free from all contamination
Component: Tooling
Material: Steel
Contamination prior to cleaning: Polymer deposit
Total number off: 3
Number off per run: 1
Process for cleaning Steel:
Screw mixing element - The part was placed into the basket and set for a cycle time of 10 minutes, then inspected. The screw showed good results after 10 minutes but needed more time, the part was cleaned for a further 10 minutes, after a total time of 20 minutes the screw appears visually clean. The Screw mixing element was then rinsed for 3 minutes to ensure that no left on H14 could stain or damage the part. The part was then dried in the Versa hot air dryer for 5 minutes at 65°C.
Leistritz breaker plate - Again the plate was cleaned for 10 minutes then inspected, the body of the plate had slightly brightened up and some staining removed but the polymer deposit in the holes still remain. The Plate had a total time of 40 minutes, the H14 combined with the Sonics does loosen the polymer but not enough to completely remove it.
Before cleaning Steel parts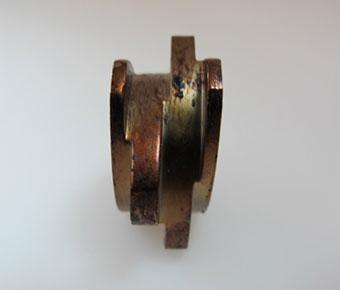 After cleaning Steel parts